Joined

Oct 8, 2007
Messages

5,447
Location
Hi Guys
Thanks to everyone that watched live on YouTube and thebench. Above average boxes in the break.
Started off with 2021 Topps Chrome Blaster and pulled a
2021 Topps Chrome Sepia Refractors #1 Fernando Tatis Jr.
The big hit was the Buster Posey Home Field Advantage, that are selling on eBay for over $50. For The Rays, pulled two base Wanders and a Welcome to the Show, The game used is future Hall of Famer, Miguel Cabrera, Tigers 81/199, the Patch is Chicago Pride Willson Contreas 171/299 and the auto is Connor Seabold of the Red Sox. Then, to top it off, pulled an Angels' Reid Detmers auto out of the Silver pack.
Cards should be in the mail by Wednesday.
Thanks to everyone who joined the break! My apologies to those that got the wrong email for paypal address. Hopefully, you'll want to join the 22 Autos and 4 relic break, 2021 Leaf Metal Draft Picks, and the Topps Pro Debut division break.
Thanks Everyone. Bob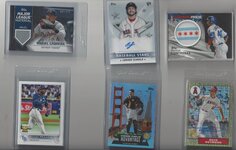 Please click on view on youtube tab to chat or at least, check in.
Have mark paid on what's been received by Paypal.
Be sure to bid on the 22 auto auction break and the new 2021 Topps Pro Debut division break!
Bob
Okay, apparently everyone wants to do the auction style breaks on an
In hand, 1 jumbo box of 2022 Topps.
2022 Topps Series 1 Baseball checklist, set info, boxes for sale, reviews, variations, release date. View the new MLB design for 2022.
Box Configuration:
-10 packs per box
-46 cards per pack
-3 Hits per box (at least one autograph card)
2022 Topps Series 1 Baseball checklist, set info, boxes for sale, reviews, variations, release date. View the new MLB design for 2022.
www.cardboardconnection.com
Also, including a surprise Blaster and the usual extras from the garage.
So, The price to cover is $285
Here is how this break will work. There are 30 teams and the auction price will start at $1 for each team. Members will have a chance to bid on their teams and the highest bidder will get that team and all cards from that team from the break. MINIMUM BID INCREASE IS $1.
BIDDING ENDS AND TEAMS ARE SET WHEN WE REACH THE BOX BREAK PRICE OF $285. Bids $264 Down to $21
After teams are set I will add this to the Transactions along with my PayPal address.
Box is in hand and will break as soon as the price is met.
This will also be listed on the ****************** and spots will place on the teams by the time the bids are placed.
Please let me know if anybody has any questions.
Thanks Bob
Teams and Prices:
Arizona Diamondbacks. $4 LarryG
Paid
Colorado Rockies. $4 LarryG
Paid
Los Angeles Dodgers $10 Grappler from SCC
San Diego Padres $8 2000Doubles
Paid
San Francisco Giants $8 bdink25
Paid
Chicago Cubs $5 2Card
Paid
Cincinnati Reds $3 Brendan1987
Paid
Milwaukee Brewers $8 Brewersfan34
Paid
Pittsburgh Pirates $5 Bdink25
Paid
St. Louis Cardinals $6 2card
Paid
Atlanta Braves $35 Jaxbraves
Paid
Miami Marlins $5 mcgwirenut
Paid
New York Mets $6 LarryG
Paid
Philadelphia Phillies $5 2 Card
Paid
Washington Nationals $9 2000 Doubles
Paid
Houston Astros. $6 LarryG
Paid
Los Angeles Angels $18 Bdink25
Paid
Oakland Athletics $5 Tom N
Paid
Seattle Mariners $10 bdink25
Paid
Texas Rangers $3 Brendan1987
Paid
Chicago White Sox $20 Tom N
Paid
Cleveland Indians $5 dad3309
Detroit Tigers $6 larryG
Paid
Kansas City Royals $10 2Card
Paid
Minnesota Twins $7 leonofnj Inroute
Baltimore Orioles $6 LarryG
Paid
Boston Red Sox. $11 LarryG
Paid
New York Yankees. $9 Journeyman
Paid
Tampa Bay Rays. $40 2000Doubles
Paid
Toronto Blue Jays $8 LarryG
Paid
Count down price $0000000
Don't know what's going on with Paypal.com, but the list is what it shows I've received!
1/1 Bounty: is one of the Topps brand blasters, I have picked up. The sooner this fills, the better the box will be...ie if this fills in the next 14 days, the box will be a 2021 Topps Chrome Blaster.
Last edited: