EASY MIKE IS OUR WINNER!
My friends,
You are playing for a custom cut dual signature card from Bob Friend and Jerry Lynch, signatures courtesy of our friend Dave
@bfd13
.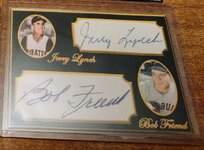 All you need to do is pick a number between 1 and 75, one guess per member per day!
Thanks for playing, God bless and Merry Christmas!
Kevin
Last edited: