Today, I received 3 signed cards of former ***** League baseball player Clinton "Butch" McCord. He sent me back his own cards- 2 of which are the same (generic baseball signature cards), along with another one of his cards that has a design that appears to be based off of 1959 Topps.
He did not send me back my questionnaire signed and completed- he kept it. However, accompanying the three cards he sent me was also a note stating that there is a ton of info I can search. Oh well. He was nice enough to include his own three cards!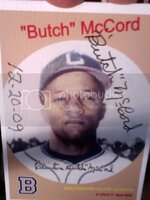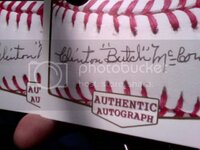 Happy Holidays, everybody!