Joined

Oct 8, 2007
Messages

5,439
Location
Hi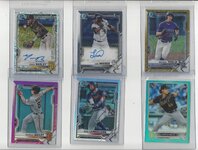 Hopefully, a nice lead in to grapler's break at 1600
Butch and his buddy, have once again, got us to the Target!
Starting to work on invoices!
Remember
, I am
adding the base cards from 2 2022 Topps Chrome blasters
that are listed in Hobby Showcase. Also, special bonus to whoever wins the Marlins! See my Topps Chrome blaster 1 break!
Have the Following in hand:
1 Box 2021 Bowman Chrome Hobby (2 Autos) $325 (+ tax) plus two blasters of 2022 Topps Chrome $34.99 each (+ tax)
TARGET is $430 To Go $52

Bonus all the base cards from my two 2022 Topps Chrome Blasters
Plus $4 shipping for the first spot and free for each additional spot.
Always sending extra cards!
Any questions, please ask.
Thanks for looking,
Bob
| | | |
| --- | --- | --- |
| 2021 Bowman Chrome | | |
| Arizona Diamondbacks | Horfin | 11.00​ |
| Colorado Rockies | LarryG | 17.00​ |
| s Angeles Dodgers | Horfin | 11.00​ |
| San Diego Padres | LarryG | 14.00​ |
| San Francisco Giants | LarryG | 9.00​ |
| | | |
| Chicago Cubs | Prospector9 | 20.00​ |
| Cincinnati Reds | Fox21x | 10.00​ |
| Milwaukee Brewers | LarryG | 9.00​ |
| Pittsburgh Pirates | ButchBuddy | 25.00​ |
| St. Louis Cardinals | Horfin | 11.00​ |
| | | |
| Atlanta Braves | Rburke02 | 9.00​ |
| Miami Marlins | Bdink25 | 28.00​ |
| New York Mets | Journeyman | 12.00​ |
| Philadelphia Phillies | Fox21x | 15.00​ |
| Washington Nationals | LarryG | 9.00​ |
| | | |
| Houston Astros | ButchBuddy | 17.00​ |
| Los Angeles Angels | Bdink25 | 25.00​ |
| Oakland Athletics | Horfin | 8.00​ |
| Seattle Mariners | Rburke02 | 20.00​ |
| Texas Rangers | Horfin | 8.00​ |
| | | |
| Chicago White Sox | Horfin | 8.00​ |
| Cleveland Indians | LarryG | 10.00​ |
| Detroit Tigers | ButchBuddy | 24.00​ |
| Kansas City Royals | Fox21x | 10.00​ |
| Minnesota Twins | Horfin | 8.00​ |
| | | |
| Baltimore Orioles | Rburke02 | 15.00​ |
| Boston Red Sox | LarryG | 20.00​ |
| New York Yankees | LarryG | 18.00​ |
| Tampa Bay Rays | Horfin | 18.00​ |
| Toronto Blue Jays | Horfin | 11.00​ |
| Bids | | 430.00​ |
| Target $430 | TO GO | 0.00​ |
Last edited: