Box four break complete. No one pick a player.
First card in the break, is not from the Valiant Set, very strange1
The first card I pulled was a Luis Matos from Pro Set and is not on the Valiant checklist!
PS-LM2 Luis Matos Rainbow 1/6 (not on Pro Set Check List) IFA Giants
BA-YS1 Yolbert Sanchez Purple 17/50 IFA Chicago White Sox
BA-MA1 Mick Abel Black 51/75 1st round 15th Phillies
BA-BM1 Benny Montgomery XRC Purple 4/50 1st Round 8th Rockies
Graded 9.5
LH-NG1 Nolan Gorman Lion Hearted 3/50 1st Round 18th Cardinals Made majors in 2022.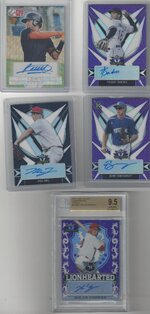 Breaking LIVE a box on Saturday, Feb 11, 2023 at Noon.
https://youtube.com/live/pPZz_TmiI48?feature=share
THE CONTEST
Simple Contest...
Breaking 2021 Leaf Box
Each box contains 5 autographs plus 1 Beckett Graded 9.5 or 10 or 1 pre-production 1/1 autographed proof.
So, just guess the name of one of the 6 players that I pull and win one of the card choices below, not one the Leaf Metal Draft cards.
2021 Leaf Valiant Baseball checklist, set info, buy boxes, release date, reviews. Find 4 MLB prospect autographs & 1 graded or slabbed card.

www.cardboardconnection.com
One pick per person! Multiple winners available depending on correct choices. Card will be mailed in a PWE.
Contest activates when one of my current breaks hit the target price! Current break is the 2 Hobby boxes of 2022 Chronicles plus one Chronicles blaster. Only $103 away from the Target. Redoing the 2020 Stadium Club/2021 Topps Gallery Break tomorrow.
Hope you guys enjoy this little contest...if it goes well and no one wins; You'll get a chance in the next box.
Thanks Bob
Pick the Player 6
Adley Rutschman - Bobby813
Brady House - bearpup
Brett Baty - mm1sub
Bryan Acuna - Jackatl
Chase Petty - Molitor04x
Christian Hernandez-Bignunz
Daylen Lile - darkman
Gavin Williams - crazedfan
Gunnar Hoglund - asoe093
Harry Ford - Leonofnj
Jasson Dominguez - peace and love
Jay Allen - anglinomics
Jordan Lawler - t.rooster
Jordan Walker - Scobes
Kumar Rocker-sportsmans
Riley Greene - [email protected]
Robert Hassell - Ripahl
Steve Hajjar - bfd13
Wes Kath - LarryG
Zac Veen - Dave Gman23
PRIZES
Last edited: