Hi
We had one great box and one that will depend what the players do in the next 10 years. But, as always, great looking Prizm cards, and good amount of numbered cards.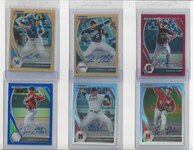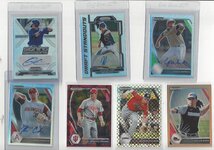 Thanks all for the quick payments.
Hopefully, you'll join my 2022 Donruss break of 1 Hobby, 1 Mega and 1 Blaster!
Bob
BONUS ADDED 1 Retail Fat Pack 2022 Bowman Baseball!
2021 Panini Prizm Draft Picks Baseball features top MLB prospects while utilizing a collegiate theme.
Within each Hobby box should be five autographs, five Silver Prizms and five inserts.
Offering a "deep" base lineup, 2021 Panini Prizm Draft Picks Baseball extends that selection even further with Prizms parallels.
Look for
Gold Prizm
parallels in Hobby boxes.
2021 Panini Prizm Draft Picks Baseball checklist, set info, date, parallels, buy boxes, review. Collegiate Hobby box has 5 autographs.

www.cardboardconnection.com
2 Prizm were $120.00 with Tax 4 Blasters $128.00 = $256.00 Target
Shipping for the first team is $4, but free for all additional spots.
BIDDING ENDS AND TEAMS ARE SET WHEN WE REACH THE BOX BREAK PRICE OF Total $256 Bids so far $242 to go $14

Break will be on YouTube, when all spots are filled and paid for.
Any Questions, Please ask.
Thanks Bob
| | | |
| --- | --- | --- |
| Teams and Prices: | | |
| Arizona Diamondbacks | LarryG | $7.00 |
| Colorado Rockies | LarryG | $8.00 |
| Los Angeles Dodgers | LarryG | $6.00 |
| San Diego Padres | LarryG | $9.00 |
| San Francisco Giants | crazyderik | $6.00 |
| | | |
| Chicago Cubs | Prospector9 | $10.00 |
| Cincinnati Reds | FRANKLINguy52 | $10.00 |
| Milwaukee Brewers | LarryG | $8.00 |
| Pittsburgh Pirates | Bdink25 | $15.00 |
| St. Louis Cardinals | Jerryjtj | $10.00 |
| | | |
| Atlanta Braves | horfin | $7.00 |
| Miami Marlins | bdink25 | $10.00 |
| New York Mets | crazyderik | $6.00 |
| Philadelphia Phillies | crazyderik | $6.00 |
| Washington Nationals | LarryG | $7.00 |
| | | |
| Houston Astros | bdink25 | $10.00 |
| Los Angeles Angels | bdink25 | $10.00 |
| Oakland Athletics | dcb11 | $5.00 |
| Seattle Mariners | crazyderik | $6.00 |
| Texas Rangers | crazyderik | $6.00 |
| | | |
| Chicago White Sox | bdink25] | $15.00 |
| Cleveland Indians | dcb11 | $5.00 |
| Detroit Tigers | crazyderik | $6.00 |
| Kansas City Royals | crazyderik | $6.00 |
| Minnesota Twins | Leonfnj | $7.00 |
| | | |
| Baltimore Orioles | horfin | $5.00 |
| Boston Red Sox | Larry G | $15.00 |
| New York Yankees | crazyderik | $6.00 |
| Tampa Bay Rays | Larry G | $22.00 |
| Toronto Blue Jays | Larry G | $7.00 |
| | | $256.00 |
| To Go | | $.00 |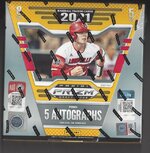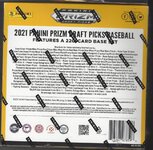 Break from the 2020 box
https://thebenchtrading.com/threads/2020-prizm-draft-pick-baseball-wow.477421/
Last edited: