Joined

Jun 29, 2008
Messages

1,574
Reaction score

0
Points

0
Location
I usually don't show off my pickups or anything, but I've never really tried to complete a high-end set before.
Last winter, when Sweet Spot came out, I busted 2 boxes. I loved the look of the base set. It was just so colorful, and popped out. It was issued in the winter, so it was one of the first sets of the year to put players traded at the deadline in their new uniforms. I started to piece together the base set. I had 2 Sweet Beginnings Rookie autos from these boxes, and the numbering went with the base. I found out there are 50 short printed Rookie Autos.
I gave it some thought. I loved these for a few reasons. Again, the cards are great looking. Also, they're individually numbered between 199 - 699. Most importantly to me, though, was the fact that they are on-card autos.
I jumped on the 'bay, and grabbed a couple of lots of them, and busted a couple more boxes. I was on my way. I put up a post here with my needs, and was able to add to what I had.
With 5 to go, I found out that Upper Deck did not release cards or redemptions of #132, Jonathan Albaladejo. While this depressed me, I looked at the bright side and figured I only had 4 to find. I bought three more, and the last one I needed turned out to be in the form of a redemption - the 4th in the 49 total autographs.
I finally pop the code in for #120, Emmanuel Burriss. I waited for weeks to have the card that completed the set. Finally, my redemption history on UD.com was updated with "Card was not produced - contact Upper Deck for a replacement." Kind of a bittersweet way to find out my set was completed!
The scan below represent 9 of my favorite base cards. By the way, I have plenty of base to trade.
The first 8 autos:
Alex Romero /499, Alexei Ramirez /399 (the most expensive card off of e-bay, also my favorite signature), Bobby Konecky /399, Bobby Wilson /499, Bradley Harman /699, Brandon Boggs /699, Brent Lillibridge /399 and Brian Barton /699.
The next 9 autos:
Brian Bass /699, Brian Bixler /699, Brian Bocock /399, Burke Badenhop /699, Chin-Lung Hu /199, Clay Buchholz /199 (the last of the cards out of 199 that I needed wasn't as expensive as I thought), Clay Timpner /699, Cory Wade /699, Daric Barton /399.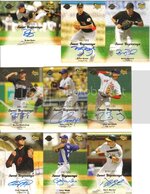 The next 8 autos:
Eider Torres /699, Jonathan Van Every /399, Evan Longoria /249 (woohoo!), Felipe Paulino / 499, Fernando Hernandez /499, German Duron /499, Greg Smith /399, Hernan Iribarran (the only Brewer) /699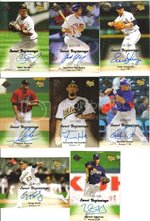 8 more autos:
Ian Kennedy /249, Jed Lowrie /349, Jeff Clement /199, Jesse Carlson /699, Johnny Cueto /249 (one of my better pack pulls), Clayton Kershaw /199, Josh Newman /699, Justin Masterson /399
The next 9 autos:
Kevin Hart /399 (the only Cub), Luke Hochevar /199, Jay Bruce /399 (my best pack pull of this set), Max Scherzer /299, Nick Adenhart /399, Nick Blackburn /399, Nyjer Morgan /399, Roman Torrasco /699, Randor Bierd /499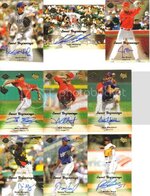 The last 6:
Rich Thompson /399, Robinson Diaz /699, Ross Ohlendorf /399, Steve Holm /699 (the only one I picked up at a card show), Wesley Wright / 499, and Wladimir Balentin /399.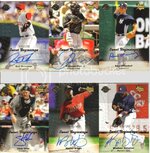 It was challenging. Mostly, it was fun. Thanks to those of you on this site who helped me finish it!
Let me know what you guys think.
-Casey