Hi everybody. This is a Sunday contest for a 2007 SP Legendary Cuts Steve Carlton Masterful Material GU Jersey (with pinstripe) Card #MM-SC.
All you have to do is guess the MLB game with the highest combined score for today 4/18/2021.
OPEN TO ALL MEMBERS!!! One guess per member. Each MLB game can only be picked once.
Deadline for guesses is 10:05 am PST (1st pitch of first game today).
Person who guesses the highest scoring game gets the card (I will add prizes if there is a tie). Good luck to everybody and thanks for playing!
MLB Games Already Guessed:
Detroit Tigers vs Oakland Athletics (Mechjo16)
5 Total Runs
Pittsburgh Pirates vs Milwaukee Brewers (pltcards)
11 Total Runs
New York Yankees vs Tampa Bay Rays (parep2014)
6 Total Runs
St. Louis Cardinals vs Philadelphia Phillies (smalltime35)
2 Runs Total
Chicago Cubs vs Atlanta Braves (Molitor04x)
WINNER 17 Total Runs
Boston Red Sox vs Chicago White Sox (mcgwirenut)
5 Runs Total (Game 1) 6 Total Runs (Game 2)
Texas Rangers vs Baltimore Orioles (Mike121)
1 Total Run
New York Mets vs Colorado Rockies (woodman)
3 Total Runs
Cleveland Indians vs Cincinnati Reds (zlw1)
9 Runs Total
LA Dodgers vs San Diego Padres (greatdadx2)
7 Total Runs
Houston Astros vs Seattle Mariners (mm1sub)
9 Total Runs
San Francisco Giants vs Miami Marlins (biggun61)
1 Run Total
Toronto Blue Jays vs Kansas City Royals (David K.)
2 Runs Total
Here is the prize: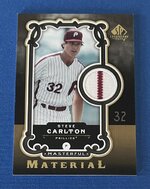 Last edited: