Joined

Dec 16, 2007
Messages

7,110
Reaction score

0
Points

36
Location
Well the Whitecaps got completely robbed right from the first at bat when Dee Gordon got a in the park homerun and was clearly thrown out at home but I'll stop there before I turn this post into a rant. Tom "Flash" Gordon got out of his seat and was walking around the concourse watching towards the end of the game so I had him sign the ball that the guy that works the fast pitch gave me since it was his night off and I told him about that he was here. I talked to Tom for about 5 minutes or so, he didn't have the 08 WS ring on, he enjoyed playing in New York the most also like Philly, he actually enjoyed relieving more then starting since he would get to play everyday.

my long awaited Bryan Pounds batting gloves, he wore these tonight but they actually were Avasail Garcia's gloves and he crossed out the 24's on these, if I was thinking I should have just had him sign only 1 of them and had Garcia sign the other since after all they were originally his.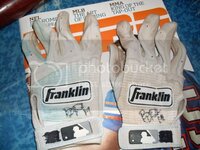 While I was waiting for everyone after the game I just happened to be talking to the right guy, turned out to be one of Anthony Shawler's best friends and he talked him into giving me his hat without me even having to ask.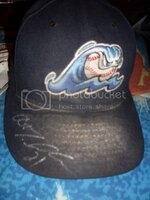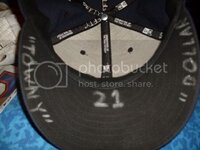 Great Lakes Loons Nick Buss' broken bat from last night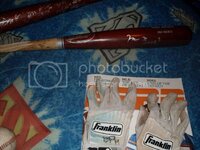 Also got Melvin Mercedes on my 09 team bat, got everyone but 2 of the guys
this season, if anyone really wants to see new pictures I'll take them
Managers
31 Joe DePastino
30 Benny Distefano
37 Mark Johnson
Pitchers
15 Erik Crichton
26 Casey Crosby
20 Jared Gayhart
14 Brandon Hamilton
16 Matt Hoffman
23 Victor Larez
29 Luke Putkonen
32 Marcio Robles
21 Anthony Shawler
33 Tyler Stohr
34 Jade Todd
22 Bryan Villareal
17 Tyler Conn
11 Luis Sanz-not on my bat
16 Mark Sorenson
13 Robert Waite
20 Nicholas Cassavechia
38 Jeremy Bonderman
16 Adam Wilk
44 Melvin Mercedes
Catchers
27 Joseph Bowen
28 Angel Flores
Keith Hernandez-not on my bat
Infielders
25 Ron Bourquin
8 Brandon Douglas
36 Jordan Lennerton
35 Billy Nowlin
5 Gustavo Nunez
6 Luis Palacios
19 Bryan Pounds
18 Bryant Wyatt
6 Mike Gosse
7 Alden Carrithers
Outfielders
10 Ben Guez
24 Jordan Newton
12 Luis Salas
11 Chao-Ting Tang
24 Avisail Garcia
Last edited: