Just dropped some cards off to Arron(elmesero5) at the ballpark...parked illegally as i did not have time to graph at the tunnel today..Well as i am walking up, i happen to see Josh signing...Arron was gracious enough to give me a base card so i could get one too....not bad for running an errand...great timing!
Also got Luis Ortiz and Kevin Belcher via trade w/ deaconblues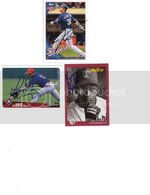 thanks again Arron!!!
CW