This group will only be for sale - thanks for the interest! These have all been sitting in boxes ready to send to COMC but I won't send in until the basic submission is back. The Bench is getting the first shot before I post it anywhere else!

Buy 10 cards and get 10% off!

Shipping is $3.50 for your first three cards and based on weight after that.
Please claim in the thread. Select pictures at the bottom.
Autos
2015 Topps Career High Autographs - Duke Snider - $25
2016 Topps Scouting Report Autographs - Matt Wisler - $3
2016 Topps Scouting Report Autographs - Taylor Jungmann - $2
2018 Topps 1983 Autographs Black Parallel /99 - Ryan McMahon - $12 (RC)
2019 Topps 1984 Autographs Gold Parallel 43/50 - Sean Reid-Foley - $10 (RC)
2020 Topps 1985 Autographs Black Parallel /199 - Patrick Corbin - $8
2020 Topps Baseball Stars Autograph - Danny Jansen - $4
2020 Topps Baseball Stars Autograph Black Parallel /199 - Ryan McMahon - $8
2021 Topps S1 Silver Pack Orange Refractor Autograph /25 - Vladimir Guerrero Jr. - $130
2021 Topps 1986 Rookie Autographs - Jo Adell - $200
2021 Topps 1986 Autographs - Kerry Wood - $20
2021 Topps 1986 Autographs Red Parallel /25 - Luis Castillo - $20
2020 Topps Archives Fan Favorites Silver Parallel /99 Autographs - Jerry Remy - $20
2020 Topps Archives Fan Favorites Autographs - Steve Finley - $6
2020 Topps Chrome Rookie Autographs - Junior Fernandez - $2
2015 Topps Finest Orange Autographs 15/25 - Robinson Cano - $50
2016 Topps Finest Autographs - Omar Vizquel - $8
2020 Topps Finest Autographs - Paul DeJong - $5
2020 Topps Gypsy Queen Autographs - David Peralta - $2
2020 Topps Gypsy Queen Autographs - Paul DeJong - $6 (2)
2015 Topps Heritage 1951 Rookie Autographs /250 - Jorge Soler - $10
2020 Topps Museum Collection Triple Relic Autographs /299 - Clint Frazier - SOLD
2020 Topps Now Postseason Autographs /99 - Dane Dunning - $15
2020 Topps Now Postseason Autographs Blue /49 - Luke Voit - $100
2020 Topps Now Postseason Autographs Blue /49 - Bo Bichette - $200 (RC)
2015 Topps Strata Autographs - Brandon Belt - $10
2019 Topps Tek Autographs - John Smoltz - $25
2014 Topps Tier One New Guard Silver Ink Autographs 07/10 - Wil Myers - $15
2002 Topps Tribute Marks of Excellence Jersey Autographs - Jim Palmer - $25
2013 Topps Triple Threads Emerald Jumbo Jersey Autograph 43/50 - Mike Olt - $4
2013 Bowman Platinum Autographed Jumbo Relic - Jonathan Singleton - $4
2014 Bowman Chrome Prospects Autograph - Zach Lemond - $2
2019 Bowman's Best Autographs - George Kirby - $4
2020 Bowman Heritage Chrome Prospects Autograph #92PA-BH - Brandon Howlett - $4
2020 Bowman Heritage Chrome Prospects Autograph #92PA-PC - Philip Clarke - $4
2020 Bowman Heritage Chrome Prospects Autograph Gold Refractor /50 #92PA-BH - Brandon Howlett - $12
2013 Panini Hometown Heroes Signatures - Gary Pettis - $3
2013 Panini Hometown Heroes Signatures - Tom Browning - $8
2013 Panini Hometown Heroes City Hall Signatures - Andre Thornton - $2
2013 Panini Hometown Heroes City Hall Signatures - Mookie Wilson - $3
2013 Prizm Perrenial Draft Picks Autographs #20 - Marco Gonzales - $5
2014 Panini Elite Extra Edition Status Purple Die Cast Prospect /75 - Daniel Gossett - $2
2014 Panini Prizm Purple Signatures Prizm /149 - Chase Vallot - $2
2015 Donruss Signature Series - Lance Parrish - $5
2015 Donruss Signature Series Blue Parallel /99 - Mike Foltynewicz - $5 (RC)
2015 Panini Cooperstown Autograph - Rollie Fingers - $10
2015 Panini Cooperstown Induction Autographs - Dennis Eckersley - $15
2015 Panini Elite Extra Edition Status Purple Die Cast Prospect /75 - Beau Burrows - $15
2015 Panini Elite Extra Edition Status Purple Die Cast Prospect /75 - Philip Pfeifer - $3
2017 Panini National Treasures Treasure Signature Materials 37/49 - Tom Glavine - $35
2018 Donruss Signature Series Blue Parallel /99 - Nick Williams - $4 (RC)
2018 Donruss Promising Pros Jersey Autograph - Daniel Robertson - $3
2018 Panini Diamond Kings Dual Materials Autograph 07/99 - Roberto Alomar - $30
2019 Donruss Rated Prospect Material Signatures - Vladimir Guerrero Jr. - $75 (RC)
2019 Donruss Recollection Buy Back 2017 Rated Rookie Signatures 05/10 - Lewis Brinson - SOLD
2019 Donruss Bleachers Inc. Pink Fireworks Prizm Autograph - JD Davis - $5
2019 Panini Prizm - Prizm Rookie Autographs - David Fletcher - $10
2019 Panini Diamond Kings Signatures - Brandon Lowe - $12 (RC)
2019 Panini Diamond Kings DK Materials Signatures Holo Blue 05/25 - Xander Bogaerts - $40 (Top jersey is a patch)
2020 Donruss Signature Series - Bo Bichette - $60 (RC)
2020 Donruss Signature Series - Zack Collins - $2 (RC)
2020 Donruss Signature Series - Bryan Abreu - $2 (RC)
2020 Donruss Optic Green Mojo Prizm Autograph /99 - Travis Demeritte - $5
2020 Panini Chronicles America's Pastime RPA Holo Silver 07/10 - Brendan McKay - $20 (Great Patch)
2020 Panini Chronicles America's Pastime RPA Green 1/5 - Logan Allen - $25 (Amazing Patch)
2020 Panini Chronicles Timeless Treasures Autograph /99 - Kyle Lewis - SOLD
2020 Panini Contenders Autographs - Nick Niedert - $3
2020 Panini Contenders Autographs - Anthony Kay - $2
2020 Panini Contenders Autographs - Brusdar Graterol - $8
2020 Panini Contenders Autographs - Joey Cantillo - $2
2020 Panini Contenders Autographs - Adbert Alzolay - $3
2020 Panini Contenders Draft Pick Autographs - Zac Veen - $20
2020 Panini Diamond Kings Quad Jersey Autograph - Jose Berrios - $10
2017 Leaf Trinity Clear Acetate Autograph - Greg Deichmann - $4
1996 Leaf Signature Series - Melvin Nieves - .75
1996 Leaf Signature Series - Ricky Jordan - $1
1996 Leaf Signature Series - Matt Stairs - $4
1996 Leaf Signature Series - Dave Burba - $2
1996 Leaf Signature Series - Tony Fossas - $1
1994 Signature Rookies Tuff Stuff Promo Autograph /1562 - Glen Williams - $1
Relics
2004 Topps All-Star Stitches Relics - Lance Berkman - $3
2005 Topps All-Star Stitches Relics - Aramis Ramirez - $2
2009 Topps All-Star Stitches Relics - Hunter Pence - $3
2013 Topps All-Star Stitches Relics - Cliff Lee - $2.50
2015 Topps All-Star Stitches Relics - Felix Hernandez - $2
2017 Topps All-Star Stitches Relics - Craig Kimbrel - $1.25
2017 Topps All-Star Stitches Relics - Zack Greinke - $1.50
2017 Topps All-Star Stitches Relics - Corey Dickerson - $1.25
/2017 Topps All-Star Stitches Relics - Paul Goldschmidt - $2
2017 Topps All-Star Stitches Relics - Nelson Cruz - $1.50
2017 Topps All-Star Stitches Relics - Michael Brantley - $1.50
2017 Topps All-Star Stitches Relics - Dellin Betances - $1.50
2017 Topps All-Star Stitches Relics - Justin Turner - $3
2017 Topps All-Star Stitches Relics - Giancarlo Stanton - $2
2018 Topps All-Star Stitches Relics - Nick Markakis - $1.50
2018 Topps All-Star Stitches Relics - Michael Brantley - $1.50
2018 Topps All-Star Stitches Relics - Corey Kluber - $2
2018 Topps All-Star Stitches Relics - Jon Lester - $1.50
2018 Topps All-Star Stitches Relics - Josh Hader - $1.50
2018 Topps All-Star Stitches Relics - Max Scherzer - $3
2018 Topps All-Star Stitches Relics - Paul Goldschmidt - $2
2018 Topps All-Star Stitches Relics - Matt Kemp - $1.50
2018 Topps All-Star Stitches Relics - Manny Machado - $4
2019 Topps All-Star Stitches Relics - Hunter Pence - $2 (2)
2019 Topps All-Star Stitches Relics - DJ Lemahieu -$2
2020 Topps All-Star Stitches Relics - Xander Bogaerts - $4
2012 Topps Golden Moments Relic - Reggie Jackson - $10
2012 Topps Golden Moments Relic - Josh Hamilton - $4
2012 Topps Golden Moments Relic - CC Sabathia - $1.50
2013 Topps Chasing History Gold Relic /99 - Matt Holliday - $8
2015 Topps Career High Relics - Felix Hernandez - $3
2015 Topps Update First Home Run Medallions - Kris Bryant - $20 (RC)
2016 Topps Team Logo Pins - Dave Winfield - $4
2016 Topps Team Logo Pins - Miguel Cabrera - $5
2016 Topps Scouting Report Relics - Corey Kluber - $3
2016 Topps Scouting Report Relics - Freddie Freeman - $5
2016 Topps Scouting Report Relics - Prince Fielder - $1.25
2017 Topps Major League Materials Relic - Mark Teixeira - $2
2017 Topps Major League Materials Relic - Nelson Cruz - $1.50
2017 Topps Major League Materials Relic - Robinson Cano - $1.50
2018 Topps Major League Materials Relic - Evan Longoria - $1.50
2018 Topps Major League Materials Relic - Kyle Seager - $1.50
2018 Topps Major League Materials Relic - Robinson Cano - $1.50 (2)
2018 Topps Major League Materials Relic - Felix Hernandez - $2
2018 Topps Major League Materials Relic - Adrian Gonzalez - $1.50
2018 Topps Major League Materials Relic - Noah Syndergaard - $2
2018 Topps Major League Materials Relic - Albert Pujols - $3
2018 Topps Major League Materials Relic - Jose Abreu - $2
2018 Topps Major League Materials Relic - Yoenis Cespedes - $1.50
2018 Topps Major League Materials Relic - Yasiel Puig - $1.50
2018 Topps Major League Materials Black Parallel /99 Relic - Noah Syndergaard - $10
2019 Topps '84 Relics - Chris Sale - $3
2019 Topps '84 Relics - Albert Pujols - $4
2019 Topps '84 All-Star Relics - Reggie Jackson - $3
2019 Topps '84 All-Star Relics - Tony Gwynn - $5
2019 Topps '84 All-Star Relics - Cal Ripken - $8
2019 Topps '84 All-Star Relics 150th Anniversary Parallel /150 - Carlton Fisk - $6
2019 Topps 150th Anniversary Commemorative Medallion 150th Anniversary Parallel /150 - Albert Pujols - $6
2019 Topps Major League Materials Relic - Stephen Strasburg - $1.50 (2)
2019 Topps Major League Materials Relic - Yasiel Puig - $1.50
2019 Topps Major League Materials Relic 150th Anniversary Parallel /150 - Jason Heyward - $3
2020 Topps '85 Relics - Aaron Judge - $8
2020 Topps '85 Relics - Ronald Acuna - $8
2020 Topps '85 Relics - Tony Gwynn - $5
2020 Topps '85 Relics - Cal Ripken - $8
2020 Topps Commemorative Coin Relic - Joey Votto - $3
2020 Topps Jumbo Jersey Sleeve Gold 10/50 #JJSP-BS - Blake Snell - $6
2020 Topps Major League Materials Relic - George Springer - $1.50
2020 Topps Major League Materials Relic Black Parallel /199 - Joey Gallo - $3
2020 Topps Update Cloth Patch - Mookie Betts - $5
2020 Topps Update 20 Years of the Captain Commemorative Patch #4 - Derek Jeter - $5
2020 Topps Update Jeter's Final Season Commemorative Patch #DJ1 - Derek Jeter - $6
2021 Topps Major League Materials Black Parallel /199 - Keston Hiura - $3
2021 Topps Cloth Rookie Patch - Ted Williams - $20 P
2021 Topps Cloth Rookie Patch - Yadier Molina - $15 P
2021 Topps Cloth Rookie Patch - Frank Thomas - $15 P
2021 Topps Commemorative Logo Patch - Yadier Molina - $15
2021 Topps Commemorative Logo Patch - Nolan Arenado - $10
2021 Topps Commemorative Logo Patch Parallel /299 - Bo Bichette - $20
2021 Topps Commemorative Logo Patch Parallel /299 - Pete Alonso - $20
2021 Topps Commemorative 70th Anniversary Patch - Ken Griffey Jr. - $3
2021 Topps Commemorative 70th Anniversary Patch - Pedro Martinez - $1 (2)
2007 Topps Allen & Ginter Mini Framed Relics - Mike Mussina - $4 (2)
2007 Topps Allen & Ginter Mini Framed Relics - Jason Giambi - $4
2008 Topps Allen & Ginter Mini Framed Relics - Tom Glavine - $2 (4)
2008 Topps Allen & Ginter Mini Framed Relics - AJ Pierzynski - $2
2008 Topps Allen & Ginter Mini Framed Relics - Jim Thome - $2 (2)
2008 Topps Allen & Ginter Mini Framed Relics - Tim Hudson - $2 (2)
2008 Topps Allen & Ginter Mini Framed Relics - Mark Teixeira - $1.50
2009 Topps Allen & Ginter Mini Framed Relics - Ryan Howard - $1.50 (jersey)
2009 Topps Allen & Ginter Mini Framed Relics - Ryan Howard - $1.50 (bat)
2009 Topps Allen & Ginter Mini Framed Relics - Ryan Braun - $2
2009 Topps Allen & Ginter Mini Framed Relics - Matt Holliday - $1.25
2009 Topps Allen & Ginter Mini Framed Relics - Ichiro - $8
2009 Topps Allen & Ginter Mini Framed Relics - Chipper Jones - $4
2010 Topps Allen & Ginter Mini Framed Relics - Torii Hunter - $1.50
2010 Topps Allen & Ginter Mini Framed Relics - Todd Helton - $2
2010 Topps Allen & Ginter Mini Framed Relics - Ryan Zimmerman - $1.50
2010 Topps Allen & Ginter Mini Framed Relics - Evan Longoria - $1.25
2010 Topps Allen & Ginter Mini Framed Relics - Nelson Cruz - $1.50
2010 Topps Allen & Ginter Mini Framed Relics - Stephen Drew - $1.25
2010 Topps Allen & Ginter Mini Framed Relics - Adrian Gonzalez - $1.25
2011 Topps Allen & Ginter Mini Framed Relics - Tim Hudson - $1.25 (2)
2011 Topps Allen & Ginter Mini Framed Relics - Adrian Gonzalez - $1.50
2011 Topps Allen & Ginter Mini Framed Relics - Billy Butler - $1.50
2011 Topps Allen & Ginter Mini Framed Relics - Todd Helton - $2.50
2012 Topps Allen & Ginter Mini Framed Relics - Adrian Beltre - $2
2013 Topps Allen & Ginter Mini Framed Relics - Craig Kimbrel - $3
2013 Topps Allen & Ginter Mini Framed Relics - Brandon Belt - $1.50
2013 Topps Allen & Ginter Mini Framed Relics - Pablo Sandoval - $3
2014 Topps Allen & Ginter Relics - Prince Fielder - $2
2015 Topps Allen & Ginter Relics - Evan Longoria - $1.50
2015 Topps Allen & Ginter Relics - Mark Teixeira - $1.50
2015 Topps Allen & Ginter Relics - Miguel Cabrera - $2.50
2015 Topps Allen & Ginter Relics - Adrian Gonzalez - $1.25
2015 Topps Allen & Ginter Relics - Evan Longoria - $1.50
2015 Topps Allen & Ginter Relics - Brian McCann - $1.50
2016 Topps Allen & Ginter Mini Framed Relics - Clayton Kershaw - $8
2016 Topps Allen & Ginter Relics - Dustin Pedroia - $1.50
2016 Topps Allen & Ginter Relics - Robinson Cano - $1.50 (2)
2016 Topps Allen & Ginter Relics - Kyle Seager - $2
2017 Topps Allen & Ginter Mini Framed Relics - Robinson Cano - $1.50
2017 Topps Allen & Ginter Relics - David Wright - $2
2017 Topps Allen & Ginter Relics - Justin Verlander - $2 (2)
2017 Topps Allen & Ginter Relics - Adam Jones - $2
2017 Topps Allen & Ginter Relics - Carlos Gonzalez - $1.25
2017 Topps Allen & Ginter Relics - Yoenis Cespedes - $1.25
2017 Topps Allen & Ginter Relics - Dustin Pedroia - $3
2017 Topps Allen & Ginter Relics - Miguel Cabrera - $2
2017 Topps Allen & Ginter Relics - Felix Hernandez - $1.50
2017 Topps Allen & Ginter Relics - Giancarlo Stanton - $2
2017 Topps Allen & Ginter Relics - Manny Machado - $2.50
2017 Topps Allen & Ginter Relics - Paul Goldschmidt - $2
2018 Topps Allen & Ginter Mini Framed Relics - Robinson Cano - $1.50 (2)
2018 Topps Allen & Ginter Mini Framed Relics -Adrian Beltre - $2
2018 Topps Allen & Ginter Relics - Dustin Pedroia - $2
2018 Topps Allen & Ginter Relics - Buster Posey - $2
2018 Topps Allen & Ginter Relics - Josh Donaldson - $2
2018 Topps Allen & Ginter Relics - Nelson Cruz - $1.25
2018 Topps Allen & Ginter Relics - Felix Hernandez - $1.50 (2)
2018 Topps Allen & Ginter Relics - Robinson Cano - $1.50
2018 Topps Allen & Ginter Relics - Brandon Crawford - $1.50
2018 Topps Allen & Ginter Relics - Jason Heyward - $1.50
2019 Topps Allen & Ginter Mini Framed Relics - Todd Helton - $1.50
2019 Topps Allen & Ginter Mini Framed Relics - Rickey Henderson - $9
2019 Topps Allen & Ginter Mini Framed Relics - Reggie Jackson - $6
2019 Topps Allen & Ginter Mini Framed Relics - Chipper Jones - $6 (2)
2019 Topps Allen & Ginter Relics - Trevor Story - $1.50
2019 Topps Allen & Ginter Relics - Andrew Benintendi - $1.50
2019 Topps Allen & Ginter Relics - Jason Heyward - $1.50
2019 Topps Allen & Ginter Relics - Buster Posey - $2
2019 Topps Allen & Ginter Relics - Justin Verlander - $2
2019 Topps Allen & Ginter Relics - Johnny Cueto - $1.50
2019 Topps Allen & Ginter Relics - Dustin Pedroia - $1.50
2019 Topps Allen & Ginter Relics - Didi Gregorius - $2
2019 Topps Allen & Ginter Relics - Mookie Betts - $4
2011 Topps Gypsy Queen Relics - Prince Fielder - $2
2012 Topps Gypsy Queen Framed Relics - Nelson Cruz - $1.25
2013 Topps Gypsy Queen Framed Relics - Brian McCann - $1.50
2014 Topps Gypsy Queen Relics - Wade Boggs - $6
2014 Topps Gypsy Queen Framed Relics - Gio Gonzalez - $1.25
2014 Topps Gypsy Queen Framed Relics - Kyle Seager - $2.50
2015 Topps Gypsy Queen Relics - Felix Hernandez -$2 (2)
2016 Topps Gypsy Queen Relics - Mike Piazza - $4
2016 Topps Gypsy Queen Gold Relics 02/50 - Robinson Cano - $4
2016 Topps Gypsy Queen Gold Relics 25/50 - Robinson Cano - $4
2016 Topps Gypsy Queen Gold Relics 38/50 - Robinson Cano - $4
2016 Topps Gypsy Queen Gold Relics 46/50 - Robinson Cano - $4
2016 Topps Gypsy Queen Framed Relics - Randy Johnson - $4
2016 Topps Gypsy Queen Framed Relics - Mike Piazza - $8
2012 Topps Heritage Clubhouse Collection Relics - Cliff Lee - $2.50
2015 Topps Heritage Clubhouse Collection Relics - Zack Greinke - $2 (2)
2015 Topps Heritage Clubhouse Collection Relics - Justin Verlander - $3
2017 Topps Heritage Clubhouse Collection Relics - Carlos Gonzalez - $1.50
2017 Topps Heritage Clubhouse Collection Relics -Troy Tulowitzki - $1.50
2017 Topps Heritage Clubhouse Collection Relics - Justin Verlander - $2
2019 Topps Heritage Clubhouse Collection Relics - Albert Pujols - $3
2019 Topps Heritage Clubhouse Collection Relics - David Price - $1.50
2019 Topps Heritage Clubhouse Collection Relics - Scooter Gennett - $2.50
2019 Topps Heritage Clubhouse Collection Relics - Salvador Perez - $3
2019 Topps Heritage Clubhouse Collection Gold Relics /99 - Freddie Freeman - $8
2020 Topps Heritage Clubhouse Collection Relics - Javier Baez - $4
2020 Topps Heritage Clubhouse Collection Relics - Joey Gallo - $1.50
2020 Topps Heritage Clubhouse Collection Relics - Evan Longoria - $1.50
2020 Topps Heritage High Number Clubhouse Collection Relic - Pete Alonso - $15
2016 Topps Holiday Relics - Troy Tulowitzki - $2.50
2018 Topps Holiday Relics - Chris Sale - $1.25
2018 Topps Holiday Relics - Ben Zobrist - $1.25
2018 Topps Holiday Relics - Yoenis Cespedes - $1.25
2018 Topps Holiday Relics - Jason Heyward - $1.25
2018 Topps Holiday Relics - Paul Goldschmidt - $1.50
2018 Topps Holiday Relics - Noah Syndergaard - $1.50
2019 Topps Holiday Relics - Luis Severino - $1.50
2019 Topps Holiday Relics - Trea Turner - $1.50
2019 Topps Holiday Relics - Stephen Strasburg - $2
2019 Topps Holiday Relics - Jason Heyward - $1.25
2019 Topps Holiday Relics - Dustin Pedroia - $2
2019 Topps Holiday Relics - Buster Posey - $2
2016 Topps Museum Collection Meaningful Materials Prime Relics Gold 14/35 - Javier Baez - $40 (Nice two color patch)
2013 Topps Tier One Double Relics 42/50 - John Smoltz - $15
2016 Topps Tier One Relics /399 - Vladimir Guerrero - $4
2016 Topps Tier One Relics /199 - Addison Russell - $2.50
2017 Topps Tier One Relics /331 - Todd Frazier - $1.50
2017 Topps Tier One Relics /331 - Brandon Belt - $1.50
2019 Topps Tier One Relics /375 - Jose Abreu - $3
2019 Topps Tier One Relics /375 - Corey Kluber - $2
2019 Topps Tier One Relics /375 - Andrew McCutchen - $2
2019 Topps Tier One Legends Relics /175 - Mariano Rivera - $15
2015 Topps Tribute Relics /199 - Rod Carew - $8
2016 Topps Tribute Relics /196 - Reggie Jackson - $10
2016 Topps Tribute Relics /196 - Rod Carew - $6
2016 Topps Tribute Relics /196 - Randy Johnson - $4
2017 Topps Tribute Relics /192 - Craig Biggio - $4
2020 Topps Tribute Triple Relics /150 - Rickey Henderson - $15
Misc. Topps
2002 Topps Finest Bat Relics - Mike Piazza - $12
2003 Topps 205 Framed Relics - Pedro Martinez - $2.50
2003 Topps 205 Framed Relics - Roberto Alomar - $3
2009 Bowman Sterling World Baseball Classic Relics Refractors /199 - Frederich Cepeda - $3
2010 Topps National Chicle Relics - Pablo Sandoval - $2
2014 Topps Mini Relics - Robinson Cano - $1.25
2019 Topps Fire Relics - Aaron Judge - $15
2020 Bryce Harper 220 Second to None Relics #6A - Bryce Harper - $6
2011 Playoff Prime Cuts Icons Materials /99 - Chipper Jones - $5
2014 Donruss Game Gear Jersey - Paul Goldschmidt - $5 (2)
2014 Donruss Jersey Kings - Robinson Cano - $2.50
2015 Donruss Jersey Kings - Andrew McCutchen - $5
2015 Donruss Jersey Kings - Prince Fielder - $1.25
2015 Donruss Elite Members Only Materials - Nelson Cruz - $2
2015 Donruss Elite Throwback Threads - Greg Maddux - $4
2016 Donruss Bat Kings - Vladimir Guerrero - $2
2016 Donruss Bat Kings - Craig Biggio - $1.50
2016 Donruss Jersey Kings - Cal Ripken - $6
2017 Donruss Diamond Collection - Corey Seager - $2
2017 Donruss Diamond Collection - George Springer - $2
2017 Panini Chronicles Swatches /499 - Justin Verlander - $2.50
2017 Panini Day Relics - Corey Seager - $2.50
2017 Panini Immaculate Collection Jumbo Jersey /99 - Stephen Piscotty - $4
2018 Donruss Retro 1984 Materials - Juan Gonzalez - $1.50
2018 Donruss Promising Pros Gold Parallel /99 - Brian Ellington - $5
2018 Panini Diamond Kings Dual Materials - Mark McGwire - $10
2018 Panini Diamond Kings Dual Materials - Rhys Hoskins - $3
2018 Panini Diamond Kings Original Materials Holo Silver /99 - Chris Sale - $5
2018 Panini Stars and Stripes Tools of the Trade Quad Jersey /299 - Tyler Frank - $1.50 (2)
2018 Panini Stars and Stripes Tools of the Trade Quad Jersey /299 - Tyler Holton -$1.50
2018 Panini Stars and Stripes Jumbo Jersey /299 - Tyler Holton - $2
2019 Donruss Majestic Materials - Jordan Hicks - $2
2019 Donruss Majestic Materials - Ronald Acuna - $8
2019 Donruss Majestic Materials - Freddie Freeman - $3 (2)
2019 Donruss Retro 1985 Materials - Justin Verlander - $2
2019 Donruss Retro 1985 Materials - Manny Machado - $2
2019 Panini Diamond Kings DK Materials - Robinson Cano - $1.25
2019 Panini Diamond Kings DK Materials Holo Silver /99 - Nick Senzel - $5 (RC)
2019 Panini Diamond Kings Jersey Kings - Frank Thomas - $6 (2)
2019 Panini Diamond Kings Jersey Kings - Rhys Hoskins - $2
2019 Panini Diamond Kings Jersey Kings - Jacob DeGrom - $3
2019 Panini Leather and Lumber Blue Triple Jersey - Corey Seager - $2
2019 Panini National Treasures /99 - Adrian Beltre - $3
2019 Panini Prime Jumbo Jersey - Evan Longoria - $2
2020 Donruss Retro 1986 Materials - Mark McGwire - $6
2020 Donruss Retro 1986 Materials - Javier Baez - $3
2020 Donruss Retro 1986 Materials - Felix Hernandez - $2
2020 Donruss Retro 1986 Materials Red Parallel /99 - Greg Maddux - $6
2020 Donruss Retro 1986 Materials Red Parallel /99 - Giancarlo Stanton - $6
2020 Donruss Materials - Ivan Rodriguez - $2.50
2020 Panini Diamond Kings Bat Kings - Eugenio Suarez - $2
2020 Panini Diamond Kings Bat Kings - Kirby Puckett - $15
2020 Panini Diamond Kings DK Materials Dual - Javier Baez - $4
2020 Panini Diamond Kings Jersey Kings - Max Muncy - $2
2020 Panini Diamond Kings Jersey Kings - Mike Trout - $20
2020 Panini Select Swatches - Freddie Freeman - $3
2020 Panini Spectra Swatches Red 09/25 - Trevor Story - $20
2001 SP Game Bat Edition Milestones Materials - Alex Rodriguez - $2
2002 Fleer Premium Diamond Stars - Mike Piazza - $2.50
2002 Playoff Piece of the Game (Shoe) /100 - Mike Piazza - $15 (SP)
2002 Upper Deck Piece of History ERA Leaders Memorabilia - Greg Maddux - $3
2002 Upper Deck Sweet Spot Classics Bat Relic - Dave Winfield - $2 (2)
2003 Fleer Fall Classic Legendary Collection Jersey - Nolan Ryan - $15
2003 Fleer Fall Classic Legendary Collection Jersey - Reggie Jackson - $8
2003 Upper Deck Finite - Finite Elements Jersey - Mike Piazza - $5
2005 Upper Deck Marquee Attractions Materials - Mike Piazza - $4
2006 Upper Deck Ovation Apparel - Felix Hernandez - $2
2007 Upper Deck Masterpieces Captured on Canvas Relic - John Smoltz - $2
2007 Upper Deck Masterpieces Captured on Canvas Relic - Felix Hernandez - $3
2008 Upper Deck Goudey Memorabilia - Prince Fielder - $1.50
2008 Upper Deck Masterpieces Captured on Canvas Relic - Felix Hernandez - $2
2010 Upper Deck Game Materials Jersey - Prince Fielder - $1.25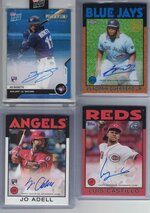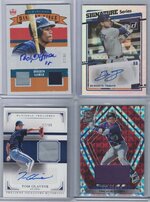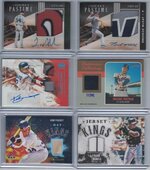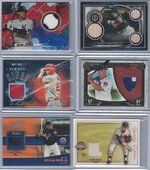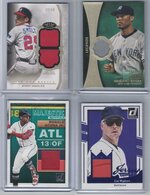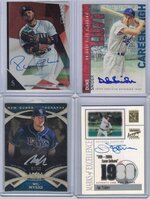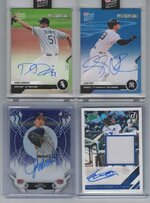 Last edited: