Please add
$3.00 shipping
on any purchase no matter how many cards you buy. Shipping to U.S. address only.
If trading, I am looking for RC cards or RC autos of the following players:
Kris Bryant RC
Kyle Schwarber RC
Corey Seager RC
Carlos Correa RC
Francisco Lindor RC
Nolan Arenado RC
Anthony Rizzo RC
Jose Altuve RC
Mookie Betts RC
Bryce Harper RC
2010-11 Mike Trout
2007-10 Madison Bumgarner
2008-10 Buster Posey
2006-08 Clayton Kershaw
2001 Ichiro Suzuki
2001 Albert Pujols
I am also interested in some 2014-16 Bowman Chrome prospect autos.
Note:
Scanned card images may be slightly distorted. All cards are in excellent condition.
Xander Bogaerts 2014 Finest RC Xfractor Auto #/149:
$65
Ian Happ 2015 Bowman Chrome Auto:
$40
Addison Russell 2011 USA Jersey Auto #/214:
$22
Anthony Rizzo 2010 Bowman Chrome Purple Refractor #/999:
($old)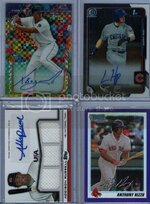 Gary Sanchez
110-card
Rookie and Prospect Lot:
$old
Gary Sanchez Obak Auto #/125:
$old
Rougned Odor Bowman Platinum Auto:
$13
Joc Pederson DK Jersey/Auto #/99:
$12
Trea Turner Bowman's Best Refractor Auto:
$30
Trea Turner Inception Auto:
$old
Trea Turner Bowman's Best Auto:
$22
Rougned Odor Supreme Auto #/50:
$12
Trevor May Green Refractor Auto #/99:
$5
Ty Blach Green Refractor Auto #/99:
$16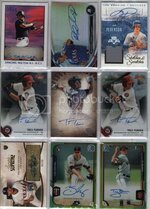 Mike Trout 9-card lot:
($old)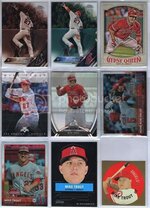 Carl Edwards 4-card lot:
$6
Anthony Rizzo 5-card lot:
$10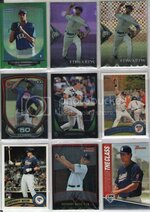 Kris Bryant 9-card lot:
$20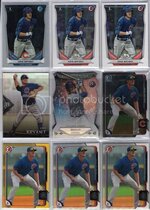 Clayton Kershaw Stadium Club Black & White Orange Foil:
$18
Giancarlo Stanton Photo Variation:
$4
Rougned Odor 2014 Topps Chrome RC Sepia #/75:
$9
Jacob DeGrom 2014 Topps Update RC Gold #/2015:
$7
George Springer 2015 Stadium Club Foil Board #/25:
$5
Willson Contreras Bowman Chrome Green Shimmer RC #/99:
$20
Eddie Rosario 2015 Heritage Mini RC #/100:
$8
George Springer 2014 Topps Chrome Update RC Black Refractor #/99:
(traded)
Noah Syndergaard Gypsy Queen Photo Variation:
$2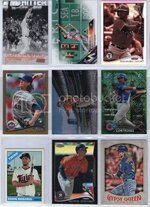 Todd Cunningham 2015 Topps Update Platinum 1/1:
$14
Eddie Rosario 2015 Topps Update RC Pink #/50:
$5
Brandon Cunniff 2015 Topps Update RC Pink #/50:
$2
Trout/Pujols 2015 Topps Update Pink #/50:
$7
Mark Teixeira 2015 Topps Update Pink #/50:
$2
Michael Wacha 2015 Topps Update Pink #/50:
$2
Zack Greinke 2015 Topps Update Pink #/50:
$2
Tyler Moore 2015 Topps Update Sparkle Variation:
$3
Norichika Aoki 2015 Topps Update Sparkle Variation
: $3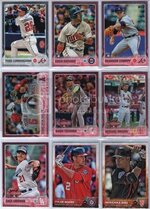 Terrance Gore Topps Chrome RC Refractor Auto #/499:
$2
Devon Travis Bowman Platinum Bat/Auto #/199:
$5
Micah Johnson Topps Chrome RC Gold Refractor Auto #/50:
$8
Matt Clark Topps Chrome RC Gold Refractor Auto #/50:
$7
Jose Pirela Topps Chrome RC Blue Refractor Auto #/150:
$6
Yimi Garcia Topps Chrome RC Purple Refractor Auto #/250:
$3
Nick Tropeano Topps Chrome RC Auto:
$1.50
Nick Tropeano Topps Chrome RC Auto:
$1.50
Devon Travis Topps Chrome RC Auto:
$2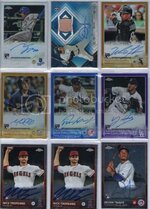 David Price 2015 Stat Variation:
$1.50
Albert Pujols 2015 Stat Variation:
$2
Justin Upton 2015 Stat Variation:
$1.50
Brett Gardner 2015 Stat Variation:
$1.50
D.J. LeMahieu 2015 Stat Variation:
$1.50
Nelson Cruz 2015 Stat Variation:
$1.50
Yadier Molina 2015 Stat Variation:
$2
Michael Wacha 2015 Stat Variation:
$1.50
Blake Swihart 2015 RC Photo Variation:
$2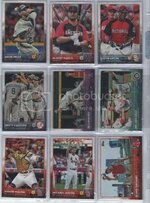 Anthony Rizzo Topps Archives '68 Game Insert:
$2
Anthony Rizzo Heritage Chrome #/999:
$2
Albert Pujols Bowman Chrome Blue Refractor #/250:
$2
Billy Butler Bowman Chrome Orange Refractor #/25:
$3
Babe Ruth Gypsy Queen Green Mini #/99:
$3
Bob Feller A&G 10th Anniversary Framed Mini:
$3
Russell Wilson 2010 Bowman Draft: $2
Rougned Odor 2014 Topps Chrome RC Orange Refractor:
$3
Nolan Arenado 2015 Topps Black #/64:
$6
Last edited: