FT/FS: Trevor Story 2016 Topps Holiday Snowflake RC Auto #32/50. If selling, $45 delivered to the U.S. only.
If trading, I am looking for RC cards or RC autos of the following players:
Kris Bryant RC
Kyle Schwarber RC
Corey Seager RC
Carlos Correa RC
Francisco Lindor RC
Mookie Betts RC
Nolan Arenado RC
Anthony Rizzo RC
Jose Altuve RC
Bryce Harper RC
2010-11 Mike Trout
2007-10 Madison Bumgarner
2008-10 Buster Posey
2006-08 Clayton Kershaw
2001 Ichiro Suzuki
2001 Albert Pujols
I will also look at 2014-16 Bowman Chrome autos of prospects that sell in the same price range.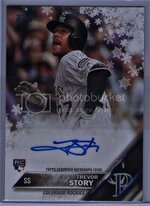 Last edited: