Joined

Sep 23, 2006
Messages

10,144
Reaction score

293
Points

83
Location
Wanting to add to my Personal Collection. Would trade in your favor if you wanted to trade down.
Markings are on the cases. Sorry for the glared pictures.
Looking for these RC cards (Ungraded or Graded):
Mike Piazza
Cal
Ripken Jr.
Roger
Clemens
(Fleer)
Chipper Jones
(Bowman)
Buster Posey
(Topps, Upper Deck)
Ichiro
Alex Rodriguez
(Flair, Fleer, SP, Upper Deck)
Derek Jeter
(Select)
Justin Verlander
Frank Thomas
(Leaf)
Albert Pujols
Yadier
Molina
Clayton Kershaw
Ken Griffey Jr.
(Score Traded, Topps Traded, Upper Deck)
Don Mattingly
(Donruss, Fleer)
Thanks,
Billy
2000 Upper Deck -- Game Used Baseball -- Ken Griffey Jr. #KG
(SOLD)
2001 EX -- Wall of Fame GU Wall -- Mark McGwire #20
$40.00
2002 Playoff Piece of the Game -- GU Base -- Ichiro #PG28
$40.00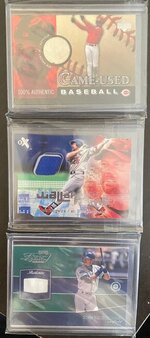 2003 Flair Greats -- Classic Numbers Jersey -- Cal Ripken Jr.
$30.00
2004 Topps Heritage -- Grandstand Glory Stadium Seat Relic -- Stan Musial #SM
$25.00
2008 Stadium Club -- Ceremonial Cuts -- Ted Williams #TW
$30.00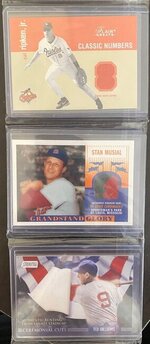 2002 Sweet Spot Classic -- Game Bat -- Cal Ripken Jr. #CR
$25.00
2003 Donruss Champions -- Statistical Champs GU Hat -- Rod Carew #27 (/150)
$25.00
2003 Donruss Elite -- All-Time Career Best GU Base -- Albert Pujols #28 (/37)
(TRADED)
2009 Sweet Spot -- Swatches Dual -- Johnny Bench/Yogi Berra #BB
$25.00
2012 Topps Tribute -- Championship Material Dual Relics Red -- Ryan Howard #RH (/10)
NO BV
2014 Topps Triple Threads -- Relics Gold -- Roger Clemens #RC1 (/27)
$30.00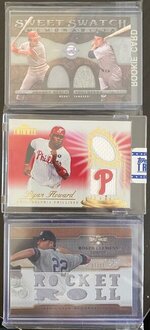 2008 Donruss Threads -- Baseball Americana Materials -- Pete Rose #6 (/250)
$25.00
2005 Topps Heritage -- Flachbacks Seat Relics -- Hank Aaron #HA
$20.00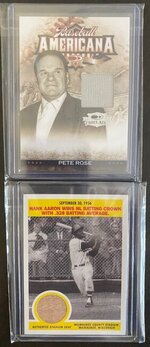 2002 Hot Prospects -- Were #1 Game Used Base -- Ken Griffey Jr. #KG
$20.00
2001 Leaf Certified Materials -- Fabric of the Game -- Hoyt Wilhelm #67 (/143)
$25.00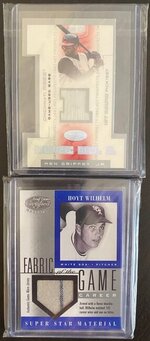 2020 Diamond Kings -- DK Quad Materials -- Gavin Lux #GL
$25.00
2020 Absolute -- Rookie Threads Spectrum Gold Patch -- Sheldon Neuse #SN (/10)
NO BV
Last edited: