Joined

Oct 8, 2002
Messages

7,851
Location
Heritage - High Number - M L B
​
24 packs - 9 cards per pack
A Real One auto or Relic card in every box!
I received the following:
Relic

Carlos Gonzales - gu relic
Chrome/Refractor parallels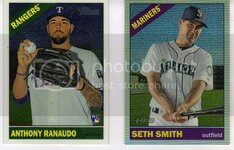 Anthony Ranaudo #ed to 999
Seth Smith #ed to 566
Gum Stained Back

Norichika Aoki
(Even smells like bubble gum!!)
Box Topper Buy Back
Ed Kirkpatrick - with 50th Anniversary stamp
Inserts
Now and Then
Rookie Performers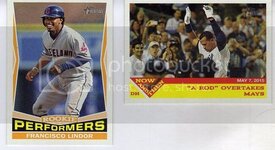 3 of each
Award Winners
Combo Cards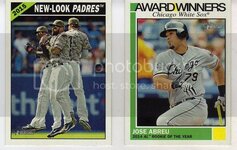 3 of each
Base / SP

I received 191 of the 200 card base set - 501-700 - no dupes!! Yee Haw!!!
SP's -- 9 - 701 thru 725
Heritage High numbers is the quintessential extension of the regular base set of the ever popular Heritage. The 1966 design is recreated well. As a set builder, I like the number of base cards received, vs the number of inserts. I believe that the correct ratio was covered. Just enough inserts to wet the appetite of the master set builder and an excellent start on the base set for the set builder. The Heritage set builder should be pleased and should only need to purchase 2 hobby boxes to theoretically complete their base set - with a pile to trade for the needed SP's.
Inserts and Parallels -- the chrome and/or refractor set builder might have a triathlon or 2 to complete to finish their sets - receiving only 1 of each in the box. Other inserts NOT received in this box include: Black chrome refractor, purple refractor, Black and White parallel, action variation, 1966 Bazooka, or even a blue back variation....
-- I personally like the Black chrome refractors #ed to only 66 and the purple chrome - both are favorites of mine.
Overall grade
A+
Go buy several boxes and send the chrome Rays parallels - black, purple, refractor - whatever -- to me!
Duane