About two week turnaround from the newest member of the Baseball Hall of Fame
Pat Gillick 2/2
1 GU OMLB SS w/ HOF 2011
and 1 index card also. The index card is for Arron(elmesero) and I told him I would give it to him but he has to make some kind of cut custom card.Not sure if the auto is too big to pull that off; but we shall see!!
I figured I needed to keep the kid on his toes...ha ha
Gillick had quite a storied career as a Baseball front office guy. I always remember those Blue Jays teams in the early 90s...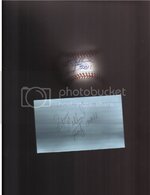 Thanks for reading!
CW