A very generous trade from Jim(Houbb) arrived at my doorstep. I noticed J.R. Richard was going to be at a signing close to Jim; and Jim was considerate enough to attend and get it for me....My nephew will love these additions to his collection....
J.R. Richard OMLB with "78-79 King K's" one of the most underrated pitchers imo...for those who did not see much of him(myself included) go check out his stats from 76-80...pretty remarkable.
and the others in this are sweet, too!!(i dig the Winfield!)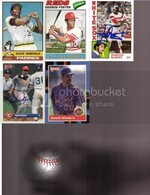 thanks for reading!!
CW