Hello all,
I am jumping on here to capitalize on our friend David K's generosity giving away an awesome Pujols card today, and in honor of our great Independence Day, as well as the projected start of the baseball season in just a few weeks, I am giving away a custom cut signature card, of my own creation!
You are playing for a Kolten Wong Cardinals custom, I just finished this one on Tuesday, and am excited to send to a good home!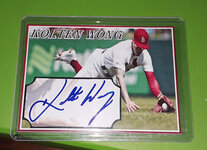 Pick a number between 1 and 75, one guess total per member, and please with your guess, tell me when your first baseball game was!
Mine was August 23rd, 1988 with my beloved Grandparents who raised me, my Grandfather was one of the news editors of the Chicago Tribune, so he loved the Cubs, and frequently got tickets through the Trib. This particular day, the Cubs beat the Astros at Wrigley! Jamie Moyer pitched a 9 K complete game, Andre Dawson hit a home run, and I got to see Ryne Sandberg and Shawon Dunston in action in the infield! Just such special memories, our seats were near the announcers booth, and Harry Caray waved to me on his way out of the booth! True thrills for 7 year old me, and I have loved baseball so much ever since!
Your turn!!
Blessings,
Kevin
Last edited: