Joined

Oct 7, 2005
Messages

12,070
Location
Had a first this week. Wednesday was the first day this year that I did not get a return. Not bad, made it almost the entire month.
As always just ask for addresses.
TTMs
Bobby Witt 2/2 c/o home
87 Topps FT, 90 Leaf PC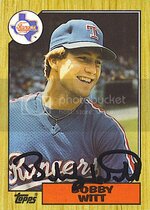 Shawn Springs 1/1 c/o NE Pats PC
This actually came back last week but I had temporarily misplaced it.

Tom Herr 4/4 c/o Home all are FT
Sadly I sent this out before I decided to do the 90 Leaf set, so I'll be resending at some point.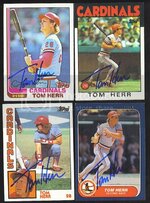 Don Money 5/5 c/o home
All FT
Is it just me or does he look like Norm McDonald?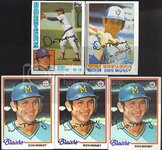 Jim Barr 3/4 c/o home
All FT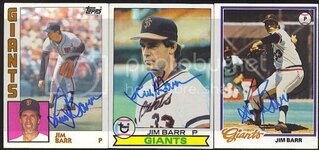 Gerald Young 2/2 c/o home
90 Leaf PC, 90 Donruss FT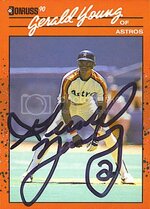 Tom Foley 1/1 c/o home
90 Leaf PC, but resending soon
Easily the wost condition I've ever got a card back in. (yes I know it ends with a preposition, deal with it)
Other PC additions
Rob Ramsay
I got this via TTM long ago, I had hoped to get him on a Mariners item but he stopped signing so I decided to add this fairly generic minor league card to the Mariners collection. I can bend any rules I want, right?
John Orton via trade
thanks ckinney
Paul Sorrento purchase from bjbsue.
Thanks bjbsue, did you hear RJ is throwing out the opening day pitch at the SAFE this year?

With my 2 Mariners additions this week I'm up to
358
different Mariners autos now.