One Pack - 4 cards
2 On card auto's - 1 exclusive Vault Metal Card - 1 low numbered insert card
I received these: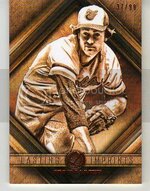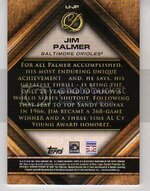 Jim Palmer - Bronze - #ed to 99
Vault Metal Card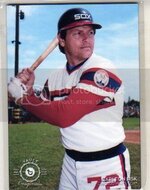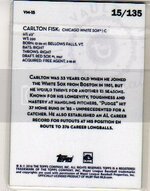 Carlton Fisk #ed to 135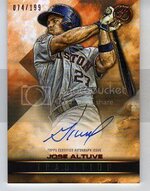 Jose Altuve #ed to 199
Tradition Auto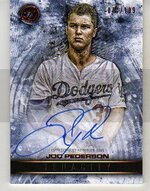 Joc Pederson #ed to 199
Tenacity Auto
Legacies of Baseball is not for the faint of heart. It is definitely for the player collector - especially the folks out there that have legacy collections - Ozzie Smith, Garvey, Fisk, Ryan, McGuire, Canseco, Mattingly, etc.
The cards are on very heavy stock with somewhat of an art enhanced photo. No other players in the background of any of the cards I received.
I like the on card autos - as they should be on a premier issue. They are designed well and look great.
Not really sure what is meant by 'low numbered card'.... 25 or less to me is a low numbered card (maybe even 10 or less) -- not necessarily 99.
The Vault Metal card comes in a plastic envelope to protect the card. I like the Vault Metal... not really sure how many cards there are in the issue, but it might be one of those 'sets' that someone chases for several years until that last one is captured.
Overall grade
B
- not a fan of the art type card, however, the on card autos!! Excellent and the Vault Metal - Excellent!!
Go buy several packs - send the Vault Metal to me and Rays autos/parallels (if there are any!)
Duane