Hello everyone, havent been here in quite some time ans sn im still pretty new here, BUT Willing to trade the dimaggio below or almost anything in my pc for the following
2005 sweet spot classic joe dimaggio signature
2005 sweet spot classic robin yount signature
2007 immortal signatures larry doby
2007 immortal signatures Early wynn
2007 immortal signatures Chas gehringer
2007 immortal signatures al lopez
2007 immortal signatures happy chandler
2007 immortal signatures Bo belinsky
2007 immortal signatures Leo durocher
obviously if the dimaggio isn't included I'd be looking for multiples cards off my want list. I will trade down for these cards and i would consider trade/paypal deals
If you have one of these cards and looking for a smaller deal let me know what your looking for and I can share pics of what i have.
griffey GU autos/autos/inserts other sweet spot autographs. HOF GU/autos
If you have it let me know or posts some scans even if your not interested in trading, i'd love to see them.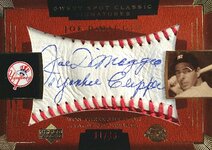 the white line on his head is NOT on the card, I just checked. something on it when I took the picture.