Hope all are safe and well. I have this 50-card lot for sale (includes 12 AU/GU for $30 dlvd. If it moves, I may list more as I am working on building an adaptive swingset (anyone in the special needs world can attest that the words "adaptive" and "inclusive" increase the prices of these items exponentially.)
Feel free to PM with any questions. I have listed serial #s and other notes beside each number (when applicable). Thank you kindly.
LOT SOLD VIA PM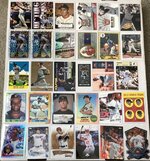 Newhouser GQ mini #/199
Sosa Leaf Sportscasters /30
Arroyo RC Heritage Chrome Refractor /568
Austin RC Update Memorial Day Camo /25
Jefferson "pink triangle" SP (not mint)
Laboy 1971 Topps "2015 Originals"
Abreu GU /100
Barber Topps Chrome Red Ref /25
Last edited: