This is just my football list. For other sports, check the other forums. I have not put this list up in about 3 years due to time restraints but figured I have 1 more week until school starts and I have to go back to teaching. I am looking for the same quality cards in return, primarily baseball and football but may consider the higher end basketball players as well.
I don't deal much with prospects, mainly current superstars and hofers/retired
Pm's work best and get first dibs.
Dave
2006 Press Pass Legends Alumni Association Autographs #5 Paul Warfield/A.J. Hawk/50 bv80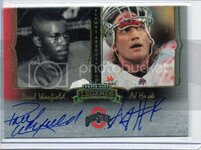 2006 Leaf Limited Cuts Autographs #35 Jay Cutler /30 bv60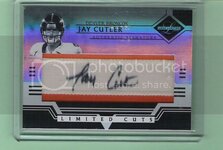 2009 Exquisite Collection Rookie Bookmark Patch Autographs #MM Knowshon Moreno/99/LeSean McCoy bv60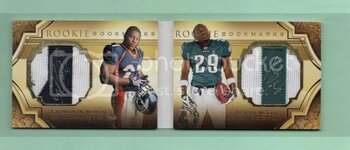 2008 Upper Deck Icons Immortal Lettermen Autographs #FT22 Fran Tarkenton/30/(Letters spell out TARKENTON) bv60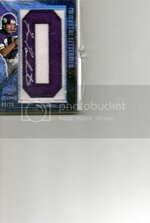 2005 Playoff Contenders #159 Mike Williams AU/73* bv60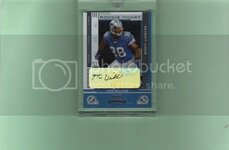 2006 Leaf Rookies and Stars Rookie Autographs Longevity #209 Marques Colston /50 bv60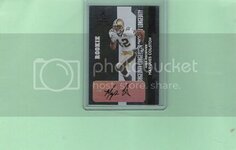 2007 Playoff National Treasures All Decade Signature #GS Gale Sayers /99 bv60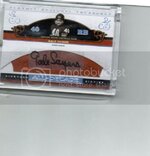 2005 Playoff Honors Rookie Hidden Gems Autographs #229 Vincent Jackson JSY /50 bv60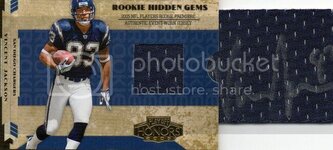 2006 Playoff National Treasures Canton Classics Signature #BD Bill Dudley/50 bv60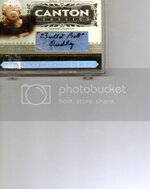 2011 Upper Deck College Legends Autographs #26 Tim Brown SP bv60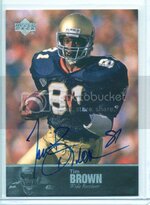 2004 Donruss Classics Significant Signatures Platinum #133 Mike Ditka /25 bv60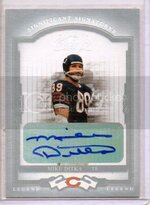 2004 Playoff Prime Signatures Signature Proofs Silver #78 Donovan McNabb/30 bv50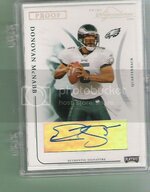 2014 Topps Valor Shield of Honor Patch Autographs #SOHsw Sammy Watkins bv50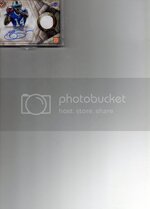 2004 Donruss Elite Lineage Autographs #L4 Chad Johnson/Keyshawn Johnson /100 bv50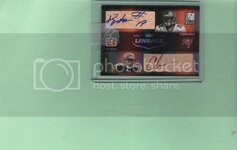 2008 Leaf Limited Slideshow Autographs #5 Matt Forte /50 bv50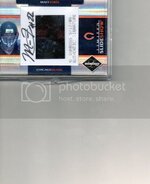 2005 Throwback Threads Pig Pens Autographs #7 Michael Vick/50 bv50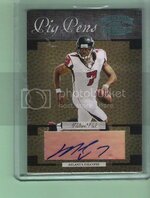 2006 Playoff National Treasures Material Signature Jersey Numbers #3 Cadillac Williams/24 bv50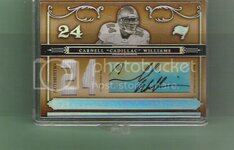 2001 Leaf Rookies and Stars Triple Threads #TT9 Jim Kelly/Thurman Thomas/Andre Reed /100 bv50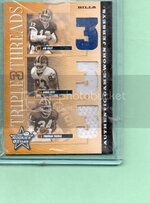 2004 E-X Clearly Authentics Dual Jersey Autographs Pewter #CAKW Kellen Winslow Jr./65 bv50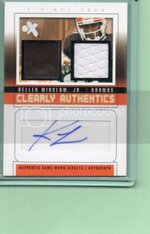 2009 Playoff Contenders College Rookie Ticket Autographs #31 Darrius Heyward-Bey/65* bv50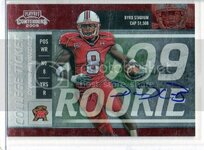 2010 Playoff Contenders #200 Zac Robinson AU/340* RC bv50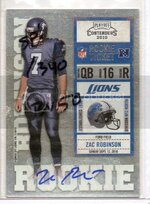 2011 Panini Gold Standard #255 Julio Jones JSY AU/525 RC bv50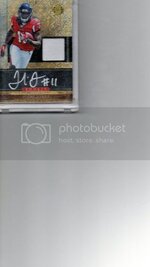 2005 Playoff Honors Award Winners Autographs #AW10 Glenn Davis /300 bv50
2013 Score Hot Rookies Signatures Showcase #11 Quinton Patton/25 bv50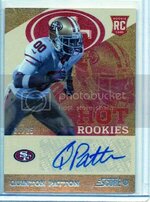 2011 Playoff National Treasures Hall of Fame Leather Autographs Marcus Allen /53 bv40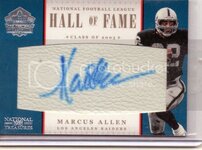 2004 Leaf Limited Threads Jersey Numbers Steve Smith AU/89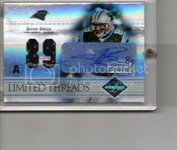 2009 Upper Deck Draft Edition Autographs Copper #204 Michael Crabtree SR/25 bv40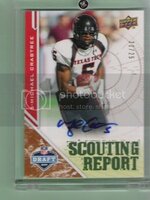 2004 E-X Rookie Jersey Autographs Gold #44 Roy Williams WR/54 bv40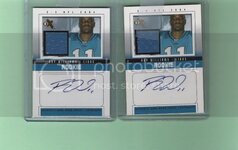 2006 Playoff National Treasures #115 Vince Young JSY AU RC /99 bv40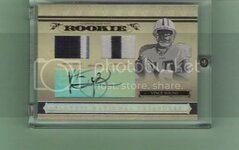 2008 Donruss Classics Old School Colors Jerseys #8 John Elway /100 bv40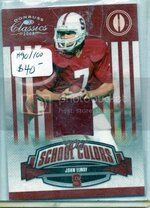 1999 Sports Illustrated Autographs #26 Gale Sayers bv40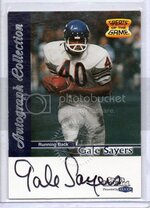 2004 Donruss Classics Significant Signatures Platinum #120 James Lofton /25 bv40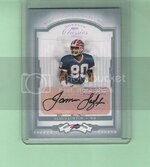 2002 Fleer Tradition Classic Combinations Memorabilia #11 John Elway JSY/Brian Griese bv40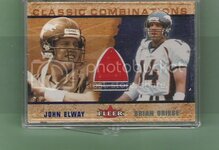 2006 Sweet Spot #228 Maurice Drew AU/899 RC bv40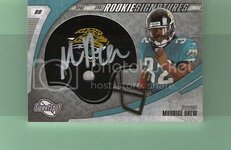 2004 Donruss Elite Passing the Torch Autographs #PT17 Warren Moon /100 bv40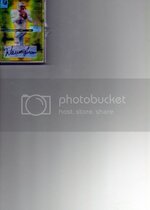 2006 Playoff National Treasures Material Signature Jersey Numbers Prime #67 Ozzie Newsome/82 bv40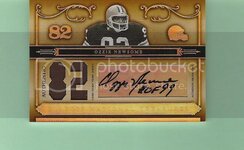 2009 Playoff Contenders Legendary Contenders Autographs #82 Warren Moon bv40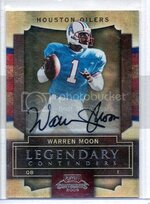 2007 Leaf Limited Jumbo Jerseys Jersey Numbers Prime #23 Vince Young /10 bv40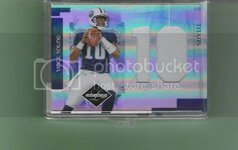 1997 Upper Deck Legends Autographs #AL109 Rosey Grier bv40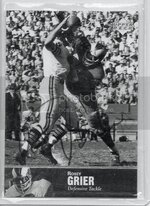 2009 UPPER DECK PHILADELPHIA JUMBO BOX TOPPER 5X7 DON MAYNARD AUTO BV40 (1 PER CASE)
2011 Playoff Contenders #202B Randall Cobb no logo AU/250* bv40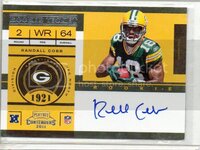 2010 SP Authentic Chirography #NA Nnamdi Asomugha bv40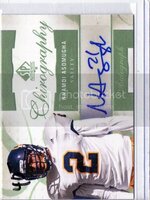 2011 Prestige NFL Draft Autographed Patch Draft Logo #39 Torrey Smith bv40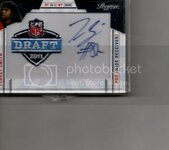 2013 Score Rookie Signatures Red #367 Gavin Escobar/49 bv40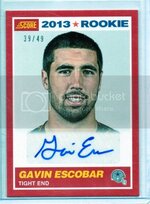 2005 Ultimate Collection #226 Roddy White AU/150 RC bv40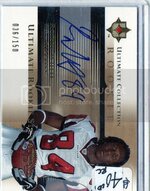 1997 Upper Deck Legends Autographs #AL60 Andy Robustelli bv40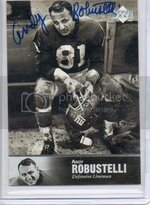 2011 Limited Monikers Autographs Gold #139 Boomer Esiason/25 bv40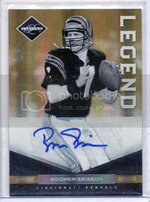 2006 Playoff National Treasures Material Jersey Numbers #15 Jim Brown/32 bv40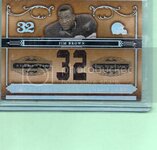 2009 SP Authentic Chirography Gold #CHJY Jack Youngblood /25 bv40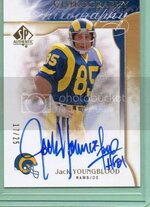 2008 SP Authentic Immortals Autographs #SPIKA Ken Anderson/55 bv40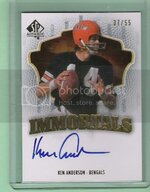 1998 Collector's Edge Odyssey Prodigies Autographs Red #21 Herman Moore/50 bv40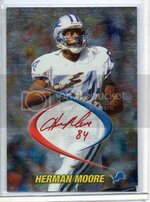 2012 Topps Quarterback Milestones Medallions Yardage Bronze #QMPTB Terry Bradshaw bv40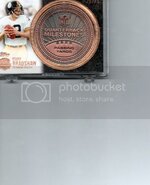 1998 Absolute Hobby Gold #64 Herman Moore /25 bv40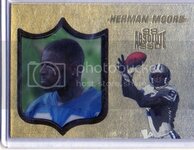 2012 Panini Black Marks of Distinction #62 Patrick Willis/49 bv40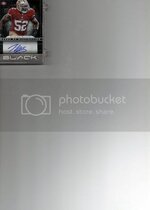 2015 Topps Inception Silver Signings #SSDF Devin Funchess /50 bv40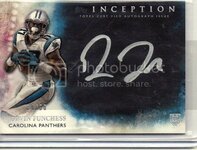 2013 Fleer Retro E-X Century Essential Credentials Now #23 Joe Namath/23 bv40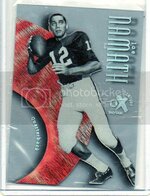 2012 Panini Playbook #137 Luke Kuechly AU/140 RC bv40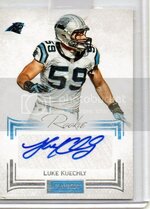 1996 Laser View Inscriptions #23 Junior Seau/3000 bv40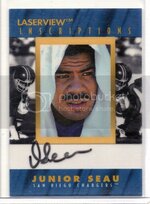 2011 Upper Deck College Legends Autographs #83 Christian Ponder bv40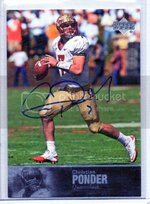 2006 Press Pass Legends Legendary Legacy Autographs Gold #8 Paul Hornung/310 bv40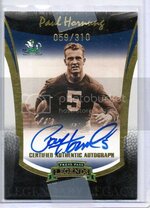 1999 Upper Deck Retro Inkredible Gold #PW Paul Warfield/42 bv30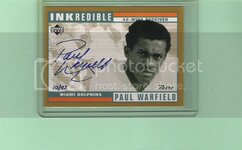 2005 UD Portraits Scrapbook Signatures #SSRB Ronnie Brown /20 no bv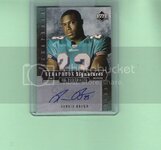 2010 Absolute Memorabilia Spectrum Gold Autographs #18 Matt Forte/5 no bv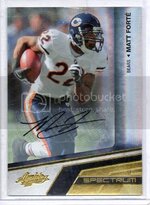 2006 Donruss Gridiron Gear Player Timeline Jerseys Jumbo Swatch Prime #9 Braylon Edwards/10 no bv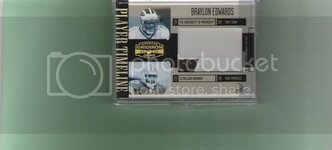 2008 Leaf Rookies and Stars Rookie Patch Autographs Emerald #223 Glenn Dorsey /5 no bv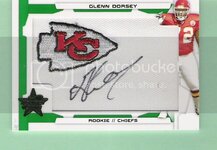 2014 Finest Jumbo Jersey Autographs Camo Refractors #AJRASJ Austin Seferian-Jenkins /10 no bv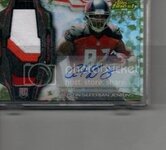 2013 Score Future Franchise Fabrics Signatures #FRNP Nick Perry/10 no bv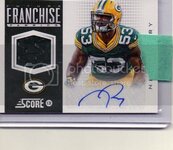 2006 Ultimate Collection Game Jersey Autographs Dual Patch #CK Alge Crumpler/Joe Klopfenstein /5 no bv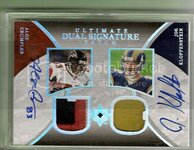 2011 Limited Limitless Autographs #21 Percy Harvin/5 no bv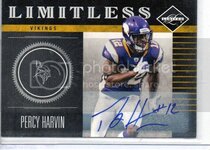 2007 Leaf Rookies and Stars Rookie Autographs Gold #230 Kolby Smith/20 no bv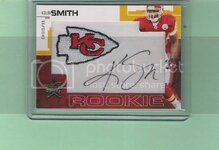 2015 Bowman Relics Red #BRJM Johnny Manziel 1/1 no bv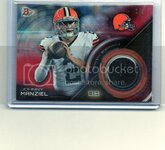 Last edited: