Nearly 20 business day turn around time on on Dec special. I submitted on 31 Dec. Small # of cards, but 80% happy. I closely looked at all the MJs...knew they would be 10s. Montana 8 is solid; no issues. I thought PSA would grade the Jeter because the plate is encased in a card, but appears not, so a waste to a degree. Enjoy.
1997-98 Topps Generations Refractors #G2 Michael Jordan low pop. Love the glow on this one. 1996-97 Bowman's Best Shots Atomic Refractors #BS6 Michael Jordan. Another low pop, gorgeous card.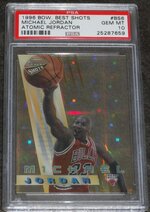 2008-09 Upper Deck Champ's Mini Signatures #CSOR Bobby Orr. 1981 Topps #216 Joe Montana RC. Solid 8. Wish it could have been 1 more grade higher. 2010 Topps 206 Mini Framed Printing Plates Cyan #162 Derek Jeter. Wish this had a # grade. Though a 10 for the framed card, but oh well.