Museum Collection - M L B​
4 mini boxes - 5 cards to a box
Every box contains: 1 on card auto, one auto'd relic, one quad relic, and one prime relic
I received these:
11 base cards - 11% of the base set
Parallels
3 bronze - Gordon, Gray, Refsnyder
1 green - Cabrera #ed to 199
Canvas Collection

Griffey, Jr.
Autos/Relics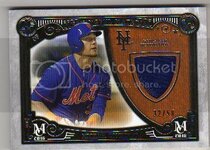 Meaningful Material
Michael Conforto #ed to 50
Quad Relic
Primary Pieces
Lance Lynn #ed to 99
Signature Swatches
Zack Wheeler #ed to 299
On Card Auto
Steven Souza, Jr -- #ed to 299
(((((((((((((((((((((((
Museum Collection is a premium issue. The cost alone makes it a premium issue. Here in O'do boxes are going for $200+.... just a bit out there!
The base cards are thick with high gloss on both sides. The set collector could have a bit of a struggle with this one - unless the 'bay comes into play or one heck of a lot of trading. Player collectors should find Museum Collection to be a great issue.
I do have a gripe -- this is a premium issue and at a premium price - sticker autos and numbered to 299 and some to 499??? All of these autos should be on card and numbered to less than 100 -- MAX.
I like the Canvas Collection - not really sure how many cards are in the collection, but as usual, they are well done and look great!
Overall grade
B
-- need more base, lower numbered autos and all on card!!
Go buy a box or 3 and send the Rays - autos, patches, and parallels to me!
Duane