I figure to make it easier, I will have just the one thread to post all my successes with TTM's, EBay & trades...
I will also post who I have sent to and if successful, will gladly share/add address to database. Hopefully by years end my goal will be to hit 500 Mets
Via EBay
Heath Bell
Via trade with Ellis Shoe - Thanks!
Neil Allen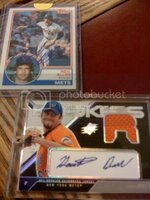 Last edited: