Just won this off eBay: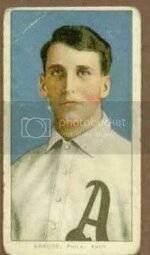 Harry Krause of the Philadelphia Athletics, Topps T206 1909.
I'm very happy with this purchase, as I have been hunting down Topps T206's since summertime ever since I read
The Glory of Their Times
and read about players from this era. I sort of lost interest but recently somehow had an urge to get one.
Pretty happy especially because it is of a Philadelphia Athletic.
Thanks for looking