1 Pack - 2 cards
1 Clear Cut Rookie Auto Patch
1 Strata Auto
I received these 2 cards:

Rashad Green #ed to 800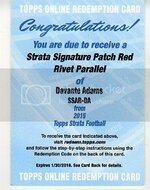 Strata Sig Patch Rd Rivet Parallel
Davante Adams
Redemption
I can say that I really hope these guys had a sense of humor when Topps came to them with 800 cards to autograph!! Each card is autographed - not stickers -- very good.
The clear card is much thicker than I remember seeing in any other issue.
This is definitely a premium issue and one for the player collector. 2 cards per box/pack is really hit or miss. If one buys several boxes, one should be able to do reasonably well.
Overall grade
A
-- great quality!
Go buy several boxes and see what autos you pull!
Duane