I bought a big lot today...included were these cards that have no room in my PC or display cases at shows...
I would LOVE to trade all of these in one deal, but will consider any decent offer...baseball and/or football only...autographs or rookies only (no base, inserts, or game-used--unless, of course it is a rookie or is autographed)...no graded/slabbed cards...licensed only...no college jerseys...
I comped everything as best I could (comparing to other 1/1's of the same player)...I added prices after each card below...feel free to check and come up with your own prices...I figure the lot is worth somewhere around $200.00-ish if
SELLING
...I would trade them all for one or two cards that
BOOK
$100.00-$150.00...I am a sucker for Griffey UD rookies...Yadier rookies...Ichiro rookies...Pujols rookies, just to name a few players...I will definitely consider other players, but if dangling those, I will likely jump...
Robert Hassell III 2019 Leaf Perfect Game #BARH3 National Showcase Autograph Blue 1/1 = $40.00-ish
Myles McDermott 2019 Leaf Perfect Game #BAMM1 National Showcase Autograph Purple 1/1 = $5.00-ish
Victor Mederos 2019 Leaf Metal Perfect Game #BAVM1 All-American Autograph Printing Plates Black 1/1 = $30.00-ish
Max Muncy 2021 Leaf Trinity #PAMM3 Button Patch Autograph Red 11/50 = $30.00-ish
Drew Romo 2019 Leaf Metal Perfect Game #BADR1 All-American Autograph Wave Gold Super Black 1/1 = $20.00-ish
Alejandro Rosario 2019 Leaf Metal Perfect Game #BAAR1 All-American Autograph Printing Plate Black 1/1 = $5.00-ish
Will Sanders 2019 Leaf Metal Perfect Game #BAWS1 AA Autograph Pre-Production Proof Wave Prismatic Silver 1/1 = $20.00-ish
Kevin Sim 2019 Leaf Metal Perfect Game #BAKS1 AA Autograph Pre-Production Proof Gold Super Prismatic 1/1 = $10.00-ish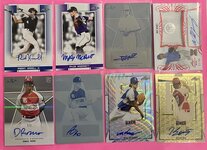 Luke Storm 2019 Leaf Perfect Game #BALS1 National Showcase Autograph Yellow Printing Plate 1/1 = $10.00-ish
Jordan Davis 2022 Leaf Metal Draft #AWJD1 Award Winners Prismatic Orange Autograph 6/7 = $15.00-ish
Rondale Moore 2021 Leaf Metal Draft #PARM1 Portraits Blue Autograph 12/25 = $15.00-ish
Jaquarii Roberson 2022 Leaf Metal Draft #DBJR1 Draft Bound Prismatic Gold Autograph 1/1 = $5.00-ish
Isaiah Simmons 2020 Leaf Trinity #CAIS1 Clear Autograph 02/25 = $10.00-ish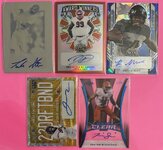 Last edited: