Just arrived today - lots of great new stuff. I will trade for Yankees stuff (vintage, Jeter, Sanchez, Bird, etc. - as long as values match up). I might trade lower end stuff for hits on my want list as well.
Shipping is $3.00 flat unless you spend over $30. I don't mind reasonable offers on multiple cards, but please keep it reasonable. There are a lot of cards here I don't mind holding on to if I do not get my price.
Please post offers or claims in the thread. Thanks!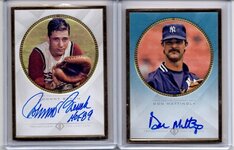 2016 Topps Transcendent Blue Auto - Don Mattingly 22/25 - $250 OBO
2016 Topps Transcendent Auto - Johnny Bench 47/52 - $125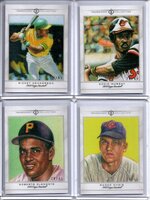 2016 Topps Transcendent Sketch Card 20/65 - Rickey Henderson - $45
2016 Topps Transcendent Sketch Card 20/65 - Roberto Clemente - $55
2016 Topps Transcendent Sketch Card 20/65 - Roger Maris - $30
2016 Topps Transcendent Sketch Card 20/65 - Eddie Murray - $35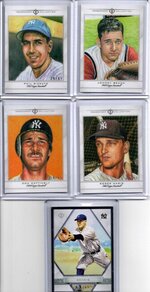 2016 Topps Transcendent Sketch Card 20/65 - Roger Maris - $35
2016 Topps Transcendent Sketch Card 20/65 - Don Mattingly - $50
2016 Topps Transcendent Sketch Card 20/65 - Johnny Bench - $35
2016 Topps Transcendent Sketch Card 20/65 - Phil Rizzuto - $30
2016 Topps Transcendent Base Card 20/65 - Lou Gehrig - $80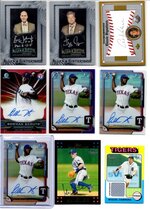 2016 Topps Allen & Ginter X Autographs - Ernie Johnson - $40
2016 Topps Allen & Ginter X Autographs - Jay Oakerson - $8
2002 Sweet Spot Classic Signatures - Al Kaline - $25
2015 Bowman Chrome Fantasy Impact Orange Refractor Auto 10/25 - Dillon Tate - $50
2015 Bowman Chrome Draft Purple Refractor Auto 057/250 - Dillon Tate - $15
2015 Bowman Chrome Draft Refractor Auto - Dillon Tate - $10
2015 Bowman Chrome Draft Auto - Dillon Tate - $5
2011 Topps Lineage Auto - Ian Kinsler - $5
2011 Topps Lineage Mini Relic - Miguel Cabrera - $4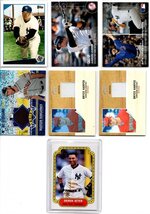 2009 Topps Update Legends SP #UH250 - Johnny Mize - SOLD
2016 Topps Now #353 /2357 - Aaron Judge - $6
2016 Topps Now Holiday Card - Gary Sanchez/Kris Bryant/Ichiro/David Ortiz - $6
2016 Topps Chrome Update All-Star Jersey - Madison Bumgarner - $12
2011 Topps Heritage Minor League Jersey - Bryce Harper - $12
2011 Topps Heritage Minor League Jersey Blue Parallel 138/299 - Bryce Harper - $15
2016 Topps Throwback Thursday #141 - Derek Jeter (/626) - $6
Not Pictured - I have the other TT cards as well - Ichiro ($2), David Ortiz ($5), Mike Trout (SOLD), Kris Bryant ($5)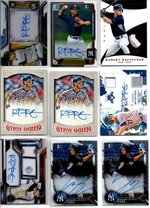 2016 Topps Strata Clear Auto - Robert Refsnyder - $4
2015 Bowman Chrome Prospect Auto - Robert Refsnyder - $4
2015 Panini Immaculate Patch 66/99 - Robert Refsnyder - $4
2016 Topps Gypsy Queen Auto - Robert Refsnyder - $2.50 Each
2016 Diamond Kings Dual Jersey Auto 064/299 - Robert Refsnyder - $4
2016 Topps Strata Jersey Auto - Robert Refsnyder - $6
2016 Bowman Chrome Prospect Auto - Hoy-Jun Park - $2 Each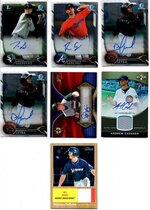 2016 Bowman Chrome Prospect Auto - Jordan Guerrero - $2
2016 Bowman Chrome Prospect Auto - Ricardo Sanchez - $3
2016 Bowman Chrome Prospect Auto - Domingo Leyba - $2 Each
2007 UD Ultimate Collect America's Pastime Signatures - Scott Kazmir - $2
2011 Topps Triple Threads Jersey Auto 11/75 - Andrew Cashner - $3
2011 Topps Heritage Minor Leagues Jersey - Wil Myers - $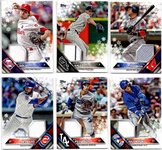 $2.50 Each (Pederson Sold)
Last edited: