I went to the show we had in Lexington Saturday morning and went into a pack busting frenzy (Mainly because I had cash to spend and found nothing good as far as singles go.) There was a guy there selling hobby boxes slightly cheaper than what you can get them for on ebay so I thought what the heck. Got a hobby box of 2016 Topps Chrome, 1 Jumbo Pack of Topps Chrome, and a 2016 Bowman Chrome Master Box. The Topps Chrome netted this: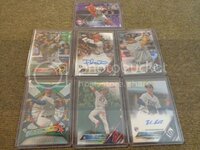 Plus I pulled this beauty in the 2nd pack: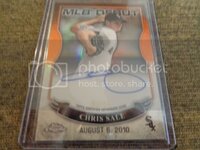 Chris Sale MLB Debut Orange Refractor #14/25
The Bowman Chrome was even better as I got 3 autos instead of the guaranteed 2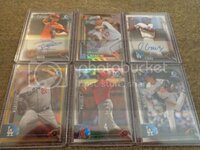 The Mancini Top Prospects Gold Refractor auto came out of the very first pack. Probably going to wait on trading it until Beckett prices it. The Kershaw gold refractor is going in the PC.
On the way home I had to stop at Meijer and they had one last blaster of Heritage High series so I felt like it was meant to be.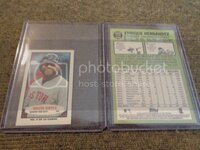 The Hernandez gum stain came out of the single pack I got at the show and the Ortiz Bazooka Mini came out of a blaster. All are for trade with the exception of the Mancini and Kershaw gold refractors. Thanks for the look.