Joined

Dec 16, 2007
Messages

7,110
Location
Buncha Tigers auto's I either traded for or bought from members here. I'm now at 292 different Tigers autographs. Only need 8 more to hit my goal for the year.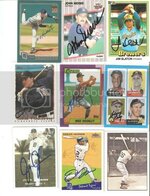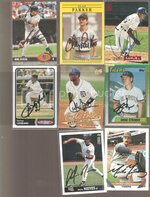 Then we have the 08 Topps additions and a few Shaq GU that I got all on ebay. The Luxury Box cost $15 which is more then I've paid for a single card in quite some time. Then again it's #'d /25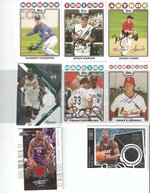 This is a pretty cool and lucky ebay story, bought the Donavan Tate Obak auto #'d 75/75 since I figure he gonna be pretty good eventually. Well the ebay dealer then msg's me a few days later telling me he messed up and sent it out to someone else who bought a football player named Tate and gave me options on what we could do. Well I figured I wouldn't be seeing the card and didn't want any of the other options but to get my Tate auto. Well he pulled thru and got it to me, gave me back my shipping then sent me a Scott Olsen 06 Topps Chrome RC auto, Donavan Tate Obak RC base and then the 4 auto card all by 09 1st round picks for the total of like $4.50. Best $4.50 I've spent in a very long time.