I created some Brooklyn's Best Dodger cards and am now looking to sell a few to thin things out before summer travel! I see these as sort of a custom shirt print set, so would love to sell as a lot.
There are 8 cards here for sale, the 9th I am throwing in as a freebie from Alan Tudyk who played in "42." Autographs from:
Ed Albosta
Jackie Collum
Bobby Bragan
George Cisar
Frenchy Bordagaray
Ray Berres
Bob Aspromonte
John Babich
Asking $12 dlvd in a bubble mailer with tracking.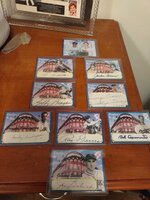 Thanks for looking and God bless!
Kevin