He was the former Brown & Raven
Most recognized for the Flag in his eye incident back in 1999.
He owns the local "Fatburger" in Columbia and works there 4 days a week.
So if anyone has these cards, I can do a 50/50 for you.
Here is a list of all the cards he has made.
http://beta.beckett.com/NavView/Nav.aspx?N=4294920272
He also has photofile pictures from when he was #77 on the Ravens as I got a pair of them signed today.
Here is what he looked like btw in the photographs i got signed: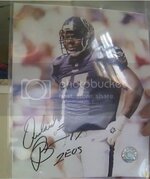 He inscribes everything with his jersey number, either 77 or 78 depending on the year.