This week brings two Steve Garvey cards (c/o Dodgers) &
A Phil Jackson return (signed ticket stub, c/o Lakers).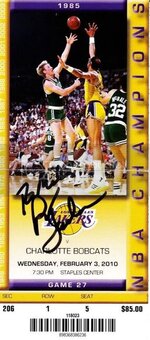 Lamar Odom scored 19 points and grabbed seven rebounds, as the Lakers edged the Charlotte Bobcats, 99-97, at Staples Center, making Los Angeles' Phil Jackson the winningest coach in club history.
Two days after Kobe Bryant became the all-time leading scorer in Lakers history, Jackson picked up his 534th regular season win to pass Pat Riley. Jackson has 1,079 victories in his coaching career.
"Having the opportunity to coach this team is always special," Jackson said. "For the fact that we've had some great teams, some great players, is always a credit to them. It's not really an individual record in my mind, it's a team thing."