Joined

Apr 3, 2007
Messages

938
Location
Thanks for the click. Back with more stuff for the low end buyers. If these start going, will add more.
Cross posted, timestamp takes precedence.
Rules and stuff:
No negotiating please
, just claim or don't... offers will not be considered claims, and will likely be ignored.
$3 minimum purchase please unless you are willing to send with a payment method that does not cost me fees. Sorry, it adds up.
Cards are organized by price as follows:
1-9: $5 cards
10-36: $3 cards
37-63: $1 cards
Cards are not promised as Gem, what you see is what you get. May be a handled corner here and there, no major flaws.
Please claim in thread by number,
which appears below the pic. Not doing so may invalidate your claim.
Numbering example as follows:
1 2 3
4 5 6
7 8 9
PLEASE do not edit threads. Just post a new reply if claiming additional cards.
Feel free to PM me with questions other than negotiating or claiming cards.
Let's keep it fun.
Shipping Options
- PWE up to 2 regular thickness cards, buyer's risk - $1.00
- 3-4 regular thickness cards, PWE with non-machinable surcharge, buyer's risk - $1.50
- Bubble mailer w/tracking $4.25 any amount of cards
1-9: $5 each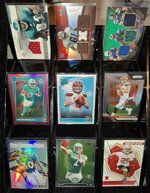 1-9: $5 each
1. Owens Finite jsy
PENDING
2. Owens Artifacts jsy /250
PENDING
3. Moncrief/Richardson/Matthews RC jersey 10/18 (Moncrief and Richardson's jsy #)
4. Waddle Pink Preview RC
5. Baker Optic RC
PENDING
6. Baker Prizm RC
PENDING
7. TD refractor
8. Geno RC
PENDING
9. Hufanga RC
10-36: $3 each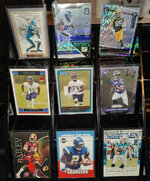 10-36: $3 each
10. Peppers RC /1500
11. Raymond Flight RC
12. Tonyan Flight RC
13. Hester Topps RC
PENDING
14. Hester Bowman RC
PENDING
15. Waller Prizm RC
PENDING
16. Bailey EX RC
PENDING
17. LT Vintage RC
PENDING
18. McCaffrey Playoff RC
PENDING
10-36: $3 each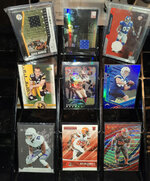 10-36: $3 each
19. Duce jsy /150
20. Alexander jsy /199
PENDING
21. Strahan jsy /900
PENDING
22. Miller RC /725
23. Hearst Ref /599
24. Cantrell Blue Status /14
25. Newsome 15/15
26. Garrett RC
27. Garrett Tri-Color /99
PENDING
10-36: $3 each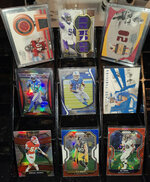 10-36: $3 each
28. Alstott jsy
PENDING
29. Bridgewater 2-color patch /36
PENDING
30. Portis jsy /102
PENDING
31. Megatron Ref
32. Amon-Ra RC
33. Stafford rookie insert /500
34. DT Prizm
35. Watt RWB
36. Reed Red Cracked Ice
37-63: $1 each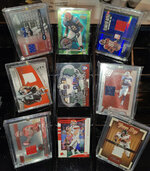 37-63: $1 each
37. Robinson ball/jsy /825
PENDING
38. Kearse Ionix
39. Clayton jsy /175
PENDING
40. Edwards jsy
PENDING
41. Harrison RC
PENDING
42. Brown jsy
PENDING
43. Green jsy
PENDING
44. Baker R&S RC
PENDING
45. Duckett jsy
PENDING
37-63: $1 each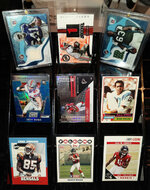 37-63: $1 each
46. Newman jsy
PENDING
47. Reggie Brown jsy /700
PENDING
48. Robertson jsy
PENDING
49. Bosa Blue Prizm Draft RC
50. Ridley Unparalleled RC
51. Winslow Topps RC
PENDING
52. Chad Johnson Vintage RC
53. Ryan Kickoff RC
54. Jones Score RC
37-63: $1 each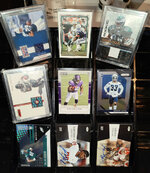 37-63: $1 each
55. Chris Brown jsy
PENDING
56. Marino Topps Gold
PENDING
57. Reggie Brown jsy
PENDING
58. Taylor jsy
PENDING
59. Dalvin Playoff RC
60. Derwin James Prizm RC
61. Goedert Unparalleled RC
62. Orlando Brown auto
PENDING
63. Wynn auto
Last edited: