Joined

Mar 3, 2008
Messages

3,995
Location
The deleted post is now all restored.
Some of the old address are now bad and some of the players are no longer with us, just restoring the posts as reference to see if people have signed in the past.
Charlie Hodge
27111 25A Avenue
Aldergrove, BC
V4W 3N4 Canada
Out 2008.12.01 In 2009.01.02
The one is silver looks much better, it is still smudged but not that bad. Just really thin.
Lou Fontinato
RR 1
Campbell, On
L0P 1B0 - Canada
Out 2009.01.02 In 2009.01.09
1/1 (needed upgrade of this card for the set)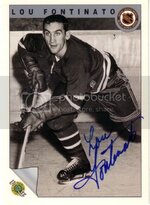 Guy LaFleur
14 Place du Moulin
L"ile-Bizard,Quebec
H9E 1N2 Canada
Out 2008.12.31 In 2009.01.09
2/2
Glenn Hall
P O Box 2483 Station Main
Stony Plains Alberta
T7Z 1X9 Canada
Out 2009.01.02 Back 2009.01.13
2/3
Gilbert Perreault
4 rue de la Seren
Victoriaville, Quebec
G6S 1J4 Canada
Out 2008.12.31 In 2009.01.16
1/1
Last edited: