Over the last few days....
Don Wakamatsu 4/4
(sent to Seattle about a week before he was fired)
Luis Tiant 3/3
Duke Snider 1/2
(completed dual with Ethier!!)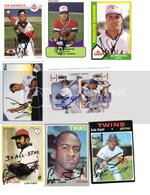 And Tuesday I hung out again with Darrell(thehalk). Thanks to him for getting the Brumleys signed that night!!
Mike Brumley 2/2
Jamey Wright 1/1
Matt Harrison 2/2
Julio Borbon 2/2
David Murphy 1/1
Thanks for reading!
CW