that was the matchup tonight for my 10 yr old nephew's baseball game!!
he happens to play on a team with 2 other kids who have some big league ties.
One is Billy Martin Jr., who is an agent and the son of the late manager. He never played at a high level but represents Joe Nathan,Sean Henn and some other guys...
The other is Jeff Granger, a once promising first round draft pick(#5 overall in 1993) and QB at Texas A&M. Anyway Jeff is a pretty cool guy and signed 12/12 for my older nephew(he's 11). Everyone had a laugh looking at this assortment of cards...(one each is for darrell,arron and andrew)
And a TTM return from former UT great Dave Chalk 6/6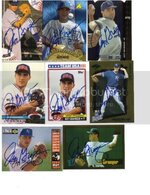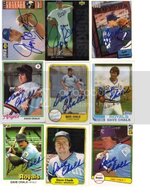 thanks for reading!!