So over the last couple of weeks I have busted WAY more packs than usual and it has soley been on 2015 Topps Update. I had been wanting to get a Jumbo box for a while so I bought one and then last week my Meijer got in like 40 Rack Packs marked down to $2.99. I bought about 30 of those with my brother getting the other 10. Here were the hits: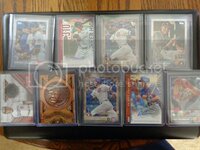 (The Correa Photo Variation and Bryant throwback got pulled back to back in the same pack on top of one another!)
*Side note, little brother got a Bryant throwback as well and a Syndergaard Photo SP
And then there were these two guys.
(Addison Russell has been my guy from 2015 products. Black #49/64 & Snow Camo #59/99. Black came out of the Jumbo box, snow camo out of the racks.)
After all of this I went to the LCS today to pick up some shoeboxes and some magnetics. Couldn't resist buying a single jumbo of 2015 Update that was on the counter. I noticed a super thick card as I was opening and went right to it thinking it was another one of those "Etched in History" Medallion cards like the one of the Babe I pulled previously. Instead staring back at me was this bad boy......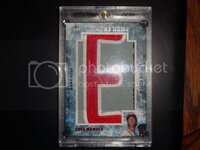 For once I feel like I got my money's worth on packs. Kudos Topps!!!!