Hey Guys,
Sorry, but because Postal Management has no clue on staffing, I am being forced to work two hours of overtime. Therefore, I wont be able to break until 2115 tonight.
I apologize to those of you who wont be able to watch live.
Breaking tomorrow June 11 at 1915, unless it conflicts with Grapplers break.
Click on the watch on youtube to chat.
Once again, Butch be the man to push us over the Target!
Will get out the invoices in a couple minutes.
If everyone pays quickly, we can aim to breaking after Mike's case break on Saturday. Hopefully, he'll be done by 7 (1900) PDT.
Thanks again,
Bob
BONUS
Adding a 2021 Blaster of Panini Mosaic Baseball 32 extra cards
7 packs of 4 Cards Plus a bonus 4 card pack.
Look for 4 Mosaic Blue Camo
2022 Panini Diamond Kings Baseball Base / Inserts​
Past, present and future stars are represented in the 2022 Panini Diamond Kings Baseball checklist, which features a base set that has 10 parallels.
Among these are Hobby-only
Gray Frame
and
Plum Frame
.
Two HOBBY BOX of 2022 PANINI DIAMOND KINGS BASEBALL

Box Configuration:
-12 packs per box
-8 cards per pack
-1 Autograph card per box
-1 Memorabilia card per box
-2 Gray Framed Parallel cards per box
-1 Plum Framed Parallel card per box
2022 Panini Diamond Kings Baseball checklist, MLBPA set info, boxes for sale, release date, reviews. Hobby boxes have 1 autograph & 1 relic.

www.cardboardconnection.com
Two HOBBY BOX of 2022 PANINI DIAMOND KINGS BASEBALL
Target price is $200
BIDDING ENDS AND TEAMS ARE SET WHEN WE REACH THE BOX BREAK PRICE OF Total $200 Bids so far $200 to go $0

Shipping for the first team is $4, but free for all additional spots.

Break will be on YouTube, when all spots are filled and paid for.

Any Questions, Please ask.
Thanks Bob
| | | |
| --- | --- | --- |
| Arizona Diamondbacks | Butch's buddy | $8.00​ |
| Colorado Rockies | K.C.Royals! | $2.00​ |
| Los Angeles Dodgers | cornwellfamily | $7.00​ |
| San Diego Padres | grapler135s | $10.00​ |
| San Francisco Giants | gwynn_fan | $3.00​ |
| | | |
| Chicago Cubs | cornwellfamily | $3.00​ |
| Cincinnati Reds | cornwellfamily | $3.00​ |
| Milwaukee Brewers | K.C.Royals! | $2.00​ |
| Pittsburgh Pirates | Butch's buddy | $15.00​ |
| St. Louis Cardinals | Jerryjtj | $8.00​ |
| | | |
| Atlanta Braves | dubby25 | $6.00​ |
| Miami Marlins | gwynn_fan | $3.00​ |
| New York Mets | bdink25 | $7.00​ |
| Philadelphia Phillies | K.C.Royals! | $3.00​ |
| Washington Nationals | K.C.Royals! | $3.00​ |
| | | |
| Houston Astros | bdink25 | $5.00​ |
| Los Angeles Angels | David K | $16.00​ |
| Oakland Athletics | cornwellfamily | $3.00​ |
| Seattle Mariners | bearpup | $5.00​ |
| Texas Rangers | cornwellfamily | $3.00​ |
| | | |
| Chicago White Sox | OldNewRips | $10.00​ |
| Cleveland Indians | [email protected] | $4.00​ |
| Detroit Tigers | Mechjo16 | $3.00​ |
| Kansas City Royals | K.C.Royals! | $8.00​ |
| Minnesota Twins | LEONOFNJ | $5.00​ |
| | | |
| Baltimore Orioles | OldNewRips | $5.00​ |
| Boston Red Sox | dubby25 | $11.00​ |
| New York Yankees | OldNewRips | $10.00​ |
| Tampa Bay Rays | bdink25 | $12.00​ |
| Toronto Blue Jays | bdink25 | $17.00​ |
| | | $200.00​ |
| To Go | 200​ | $0.00​ |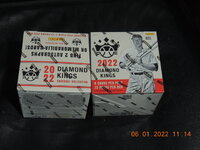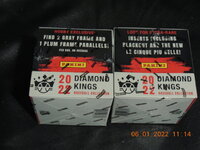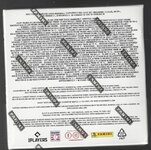 Last edited: