Joined

Oct 8, 2002
Messages

7,851
Location
Topps Baseball 2010 - Series 1​
36 packs - 10 cards per pack
'1 Autograph or 1 Relic card per box!'
I received the following:
251 unique base cards (330 in Series 1)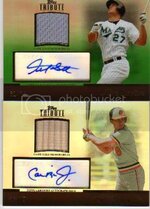 Classic design on the base set - very well done this year. The cards are glossy with a white border. The players photos are nearly all action photos. The reverse is classic as well - with a different photo of the player - EXCELLENT!!!! The numbering of the cards is easy to read as well.
Inserts
- (Lots-o-inserts!!)
Topps Town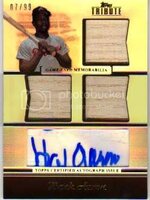 Complete set of 25 plus a few extras
and
4 Gold Topps Town
Peak Performance
Cards Your Mom Threw Away

9 Peak Performance
12 Cards Your Mom Threw Away
Legendary Lineage
9 different cards
Turkey Red
When They Were Young

9 Turkey Red
5 When They Were Young
Tales of the Game
History of the Game
6 of each
Gold Parallels #ed to 2010

Cards Your Mom Threw Away - Original Back
Winfield
Maine, Robertson, Wakefield, Kemp, Stewart, Crosby
Game Used
Dave Winfield
*****************
Another good year for the base set. The master set builders out there will have a good number of inserts to chase as well. The gold parallels are rather scarce - only 6 in my box.
I also like the fact that I did not receive any duplicates in this box.... very good!!
The History of the Game and the Tales of the Game inserts are interesting. I like to be reminded of the guys that have gone before and made the game as great as it is. Thank you Topps for continuing to remind us of the history of America's greatest pasttime!
Overall grade
A+
Go buy several boxes and send the Rays game used and autographed cards to me!!!
Duane