24 packs - 4 cards per pack
2 chrome autos per box
Autos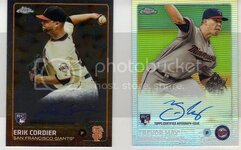 Eric Cordier
Trevor May #ed to 499
Both autos are on card autos in blue Sharpee. Well done. The non-refractor auto is a bit hard to see via the scan, but looks much better when held in one's hand.
SP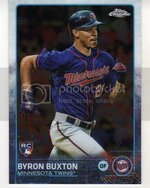 Byron Buxton - making the assumption that there are 11 of these as in Finest this year.
Inserts
Gallery of Greats

Bautista and Bautista #ed to 50
Future Stars // Commencements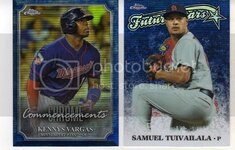 FS - Tuivailala and Ranaudo
Commencements - Vargas
Shimmer Refractors/ Blue Refractors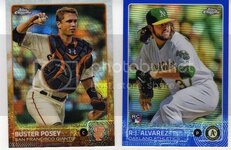 Shimmer - Posey, Ziegler, Hernandez
Blue - Alvarez #ed to 150
Refractors

8x -- I think! Still not 100% sure -- really need some designation from Topps with these!!
Base Cards

76 base - 38% of the base set
Topps Chrome is a premium issue and as with the name of the set - the cards are stiff and highly reflective (also why there are some problems determining which ones are refractors!!) Condition should be no problem, with the possible exception of surface scratches, when sending cards for grading.
The hobby boxes contain 2 autos and the jumbo hobby boxes contain 5 autos (considerably more $$). The set collector (such as myself) should be able to collate the base set with as few as 4 hobby boxes and have some dupes available for trade.
As in the past issues, the RC designation is on the rookie cards. One of my favorites are the shimmer refractors. This would be one very cool set to collate - albeit many mucho denero to complete - but cool none the less.
Overall grade
A--
good issue, but still want REF designation on refractors!!
Go buy several boxes and send the non-playoff Rays inserts
to me!
Duane