Topps Chrome - MLB - 2016
​
24 packs - 4 cards per pack
2 Chrome Autos per box
I received these cards:
68 unique base cards -- 34% of the 200 card base set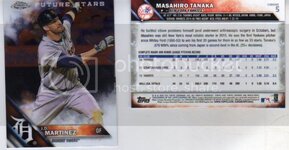 Topps Chrome, as in years past, is the chrome version of the base set - or at least a portion of the base set. The cards are highly reflective - thus 'chrome/mirrorlike' finish on the front of the card. Chrome seems to be a popular product for both set builders and player collectors.
There are a number of parallels - refractor, shimmer refractor, prism refractor, orange, purple, red, printing plates.... lots to chase! This year the word refractor was again added to the reverse of the card for the ease of detection. THANK YOU!!!
Inserts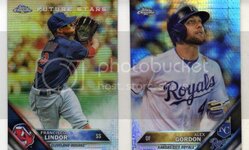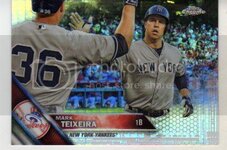 7 regular refractors
3 shimmer refractors
3 prism refractors
Purple and Orange Refractors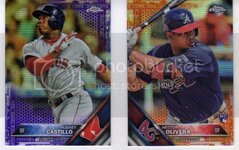 Rusney Castillo -- #ed to 275
Hector Olivera -- #ed to 25
Future Stars / Youth Impact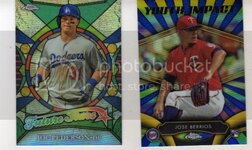 3 Future Stars
2 Youth Impact
Future stars insert looks like a cut glass back ground -- excellent!
First Pitch // Perspectives
1 First pitch - Billy Joe Armstrong
4 Perspectives
All of these cards are refractors...
Autos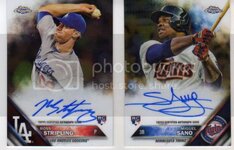 Ross Stripling
Miguel Sano
Printing Plate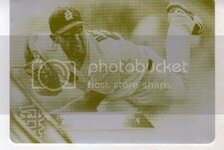 Michael Wacha - Yellow printing plate 1/1
************
I like Topps Chrome because of the parallels. I have only completed 2 parallel sets in nearly 30 years of collecting, but the various types of refractors nearly gets me going to try another....
The autos -- are excellent!! On card - blue Sharpee -- look fantastic!
One other insert that is hard to come by - I believe they are case hits - are the Rookie of the Year cards -- they have a picture of the player on a very deep blue back ground - cool looking - but alas not numbered ( or at least the one I saw was not numbered - still very neat looking card!)
Overall grade
A
Go buy several boxes and see how close you come to a complete base set.
Duane
Last edited: