Topps Heritage M L B​
24 packs - 9 cards per pack
A Real One auto or Relic card in every box
I received these: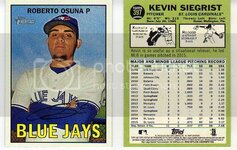 195 unique base cards - 43.3% of the base set of 450 + one mis-numbered card #183 Stephen Piscotty
5 SP cards - (#451-500)
This year's Heritage is in the 1967 design. Heritage always has a great following for the set builders and master set builders out there. There are the usual inserts - Then and Now, Flashbacks, mini's and chromes. The chrome versions seem to be getting fewer and fewer each year. We were getting 4-6 chromes per box, and this year in 3 boxes, I have only received 1 in each box.
Inserts
New Age Performers // Mini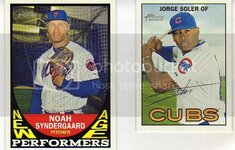 3x New Age
1 Mini
Flashbacks - News and Baseball

News - Marshall / Queen Mary
Baseball - Maris / Clemente
Then and Now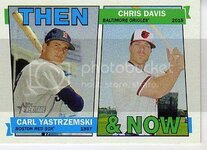 Bunning/Scherzer
Yaz/C. Davis
Chrome Refractor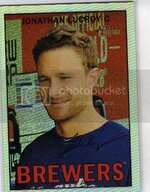 Jonathan Lucroy #ed 567
Wood Grain
-- (I believe!!)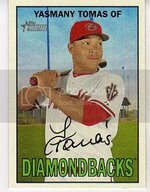 Yasmany Tomas
I only say 'wood grain' because it feels different from all the other cards...
Relic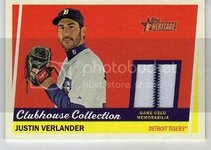 Justin Verlander
Box Topper
*************
I know that there are variations and I don't believe that I received any. I have looked at the mice type number on the reverse of the card and haven't found any variations. I believe that 99% of the variations are action variations.
Also, in some boxes, one will receive a 1967 original as a box topper.
Overall grade
A-
could have received one or 3 more SP's....
Go buy several boxes and send the Rays chromes to me!
Duane