Topps Museum - 2015 N F L
​
4 Mini boxes - 5 cards per box
1 on card auto, 1 jumbo relic, 1 auto relic, and 1 quad relic (per hobby box) -- 1 of the above in each mini box...
I received these:
14 base - 14% of the 100 card base set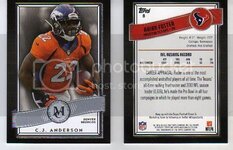 Museum is on thick heavy stock. The black border is such that if one is looking to get something graded -- handle with even greater care than normal.... black is a tough grade. The design is clean - nearly black and white with the exception of the player photo. The reverse is easily readable - looks great!
Inserts/Parallels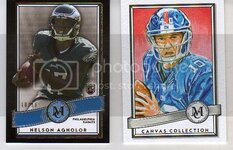 Blue #ed to 99 - Nelson Agholor
Canvas Collection - Eli Manning
The Canvas Collection card is textured.... looks much better in hand than in the scan.
Jumbo Relic
Kelvin Benjamin #ed to 25
Quad Relic

Steelers - Bell, Bettis, Brown, Ward
Dual Relic / Auto

Kelvin Benjamin #ed to 150
(must be a Kelvin Benjamin box!!)
Signature Series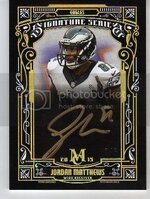 Jordan Matthews #ed to 5
Cool looking card!!
##############
Very good issue for the player collector and even the team collector.... the set builder might have a bit of work to do to complete the set. As said earlier, the design is good, the player's name is easily read, the logos are present but not overpowering -- good job!
Three of the inserts I received are extremely thick and could also be subject to handling conditions if one is not careful.
Overall grade
A
Go buy several boxes - see if you get a card #ed to 5 or less!
Duane