36 packs - 7 cards per pack
Look for Autos and Relics
I received these: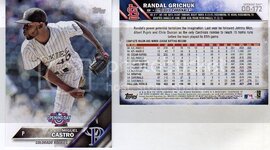 One complete base set 200 cards and 7 extras!!
Opening Day has the same design as the annual base set this year. The Opening Day logo is on each card. The front of the card is glossy and the reverse also has a glossy finish. I like the fact that I received the complete base set in the box. It is a great set for the beginning collector. There are a good number of insert sets such as:
Inserts
Foil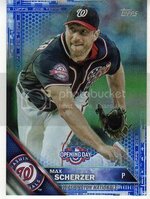 6 received
Superstar Celebrations / Mascots
8x Mascots
7x Superstar Celebrations
Striking Distance // Alternative Reality // Heavy Hitters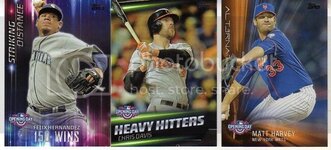 7x Striking Distance
7x Alternative Reality
7x Heavy Hitters
Opening Day Stars // Bubble Trouble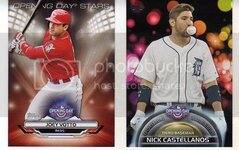 Opening Day Stars - Posey and Votto
Bubble Trouble - Nick Castellanos
Overall grade
A
-- **I received a complete base set in my box!**
Go buy a box or 3 and let the kids have a go at them.. Great way to start on one of the best hobbies out there!
Duane