16 packs - 8 cards per pack
2 on card autos in every box
1 parallel or insert in every pack
I received these:
110 unique base cards - 36.6% of the base set of 300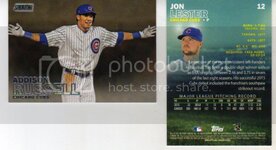 Stadium Club is a premium issue with a glossy front and glossy reverse. The cards are thick and the HD photos pop on the full bleed front. This is an issue that set builders, such as myself, enjoy. One should probably need to purchase 4-6 boxes to complete a set and have enough to trade for what is needed.
Player collectors will also like their options - gold, black, and orange parallels as well as autos -- also -- Members Only cards - one per case - not numbered, but rumored to have only 7 of each card.... pretty cool.
Inserts/Parallels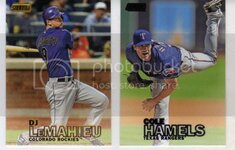 6 gold
1 black
I did not receive any orange parallels in this box -- dang it! I would have liked to have the black and orange parallels numbered...
Contact Sheet/ ISOmetrics / Beam Team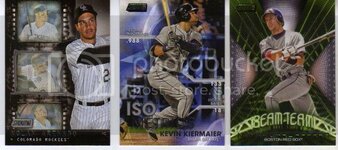 Contact Sheet - Arenado and Bryant
ISO - Cruz and Kiermaier
Beam Team - Nomar G.
Legends/ Triumvirate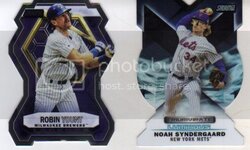 Triumvirate - Harper and Syndergaard
Legends - Yount
Both inserts are die cut and look excellent!!
Autos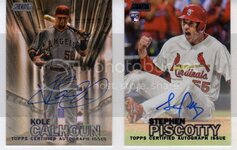 Kole Calhoun
Stephen Piscotty - black parallel auto -- #ed to 50
Both on card - blue Sharpee -- very well done!!
I personally like the Stadium Club issue this year. I have purchased 3 boxes and still need a few for my set.
Overall grade
A+
Go buy several boxes and send the 'cellar dwelling' and 'mail the rest of the season in' Rays parallels to me!
Duane