Topps Strata 2015​
One Pack - 2 cards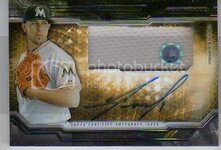 Jose Fernandez
Clearly Authentic Autograph Relic card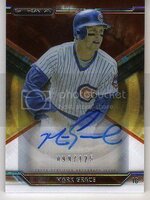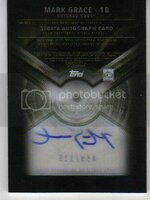 Mark Grace - #ed to 125
Strata Auto card
Strata is definitely a premium issue.... both cards are multi layered acrylic. The autos are both on card autos in blue Sharpee. Both look fantastic!! The production quality of each card is excellent - sharp corners and well centered -- very well done!!
Strata is the definition of a player collector issue. I could not imagine what collating a set of these would entail....
Overall grade
A++
Go buy several packs to see if you get any Rays and send them to me!!
Duane