One pack - 2 cards
1 Authenticated memorabilia card and one on card auto
I received these 2 cards...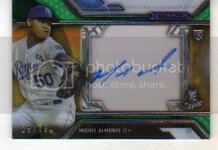 Miguel Almonte #ed to 75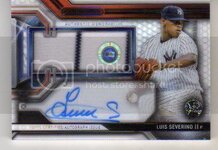 Luis Severino
Strata is a premium issue. I personally like the design and the acrylic cards (just seems to be really cool to me!)
Both autos are on card and in blue Sharpee. Both look excellent. The Severino card is about 5x thicker than a normal card. Some are calling this a shadow box card. It looks excellent with the oversize jersey piece and the Topps authentication sticker.
Strata is definitely an issue for the player collector and possibly the gambler - 2 cards in a box -- who ya gonna get?
Overall grade
A+
Go buy several boxes and send the Rays to me (if there are any included in the issue - as bad as they are - why would they include them?)
Duane